Coffee liqueurs are indeed a real phenomenon (for me personally, they are in fact a phenomenon in multiple ways)! In general, it must be stated that they have become a permanent element behind every bar and hardly anyone who really wants to build up a serious stock of bar ingredients can avoid a coffee liqueur. Considering this fact, it is even more astonishing that usually only a few brands are mentioned in this context, especially Kahlua from Mexico, which is probably best known for its part in a White Russian. However, the world has also long since started moving in the coffee liqueur segment. (provided test product)*
Personally, I appreciate a good coffee liqueur anyway, as it is a welcome opportunity for me to enjoy the taste of coffee. I am one of the rare species of people who like coffee but hardly ever drink it. The reason for this is simply that I my stomach does not like coffee very much; I don't know why. Cold brew or cold drip coffees make a big difference for me, because I usually get along better with them, but I simply don't drink them as often as I would like to. But that's just a personal note. In the field of coffee liqueurs, I have used Kahlua as a standard for a long time, sometimes even more exotic ones (for example, here and there I used a Galician coffee liqueur from the northwest of Spain). Nevertheless, lately there is hardly any way around one name: Mr. Black!
If you talk about coffee liqueurs among cocktail nerds, the name Mr. Black Cold Brew Coffee Liqueur is indeed mentioned regularly and instantaneously. So it's really long overdue to put Mr. Black Cold Brew Coffee Liqueur to the test – and this is exactly what I want to do today.
The Mr. Black Cold Brew Coffee Liqueur comes from Australia and boasts itself to be the world's best coffee liqueur. Its speciality lies above all in the production process and the composition of the ingredients. It is based on coffee beans, which are first roasted independently in the roastery and distillery in Erina (a suburb on the Australian east coast, north of Sydney). The beans are 100% Arabica coffee beans from Ethiopia, Colombia and Papua New Guinea. Finally, coffee is made from the beans in a cold brew process and is mixed with an Australian wheat vodka and some cane sugar. It should be mentioned, however, that the sugar content is much lower than in comparable coffee liqueurs. The amount of coffee contained in the liqueur is also up to ten times higher. With after all 23% vol. (for comparison, Kahlua contains 20% vol.), the Mr. Black Coffee Liqueur is finally bottled.
On paper, this sounds really appealing, so it's time to try it in the tasting.
Tasting Notes:
Aroma: In fact, I would never have blindly expected to find a coffee liqueur here, I would have simply assumed that this is simply coffee. Moreover, that means something, because I wouldn't say that about any coffee liqueur I've ever tried before. There are beautiful, deep roasted notes with a fine bitter-fruity undertone, which is reminiscent of currants and dark cherries. There are also notes of dark chocolate, vanilla and some caramel, I like it very much!
Taste: Oh yes, this is really something great here in the glass! A slightly sweetened espresso, and a pleasantly integrated, alcoholic body, which serves as a wonderful vehicle for the coffee nuances and carries them even further forward. You almost think you are tasting the crema of an espresso on the palate, again there are roasted notes, dark chocolate and a hint of vanilla that make up the heart of the liqueur. I hardly find the fruity notes on the palate anymore, but that doesn't bother me, because the focus here is simply on an authentic coffee experience. Even if I rarely join in the world's best superlatives, this is without doubt the best coffee liqueur I have ever had.
Finish: medium longth with slightly fruity bitterness
A coffee liqueur cocktail that I hold in high esteem, but which is far from being comparable in popularity to the White Russian, is the Trinidad Cocktail, of which I unfortunately only know that it originates from the Counter Intuitive in Scottsdale, Arizona, but not, what the name of the original creator is. This wonderful blend of a mature Trinidad rum (I chose a Plantation Single Cask Trinidad 1997 with a Kilchoman cask finish), coffee liqueur, orange curacao and crème de cocoa is really a very aromatic, yet balanced drink. In the original, Curacao (I use the Pierre Ferrand Dry Curacao), Coffee Liqueur and Creme de Cacao (here I replaced the actually dark Creme de Cacao with the wonderful Dutch Cacao) are used at 1.5 cl each (respectively ½ oz). I have reduced the Curacao part a little bit and slightly increased the portion of Mr. Black. I simply like the result better (and it's less sweet).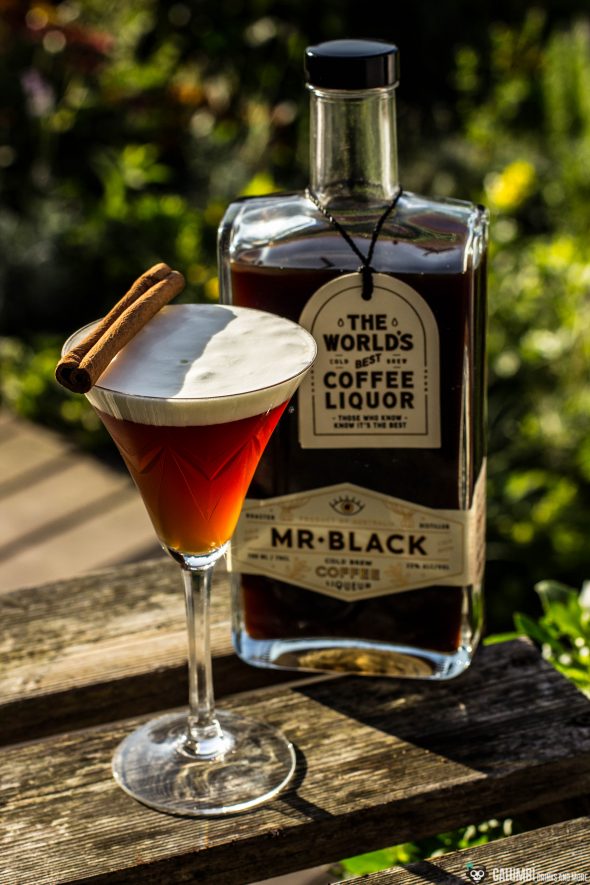 Recipe "Trinidad Cocktail":
6 cl matured Trinidad Rum (e.g. Plantation Single Cask Trinidad 1997)
2 cl Mr. Black Cold Brew Coffee Liqueur
1.5 cl Dutch Cacao White Crème de Cacao
1 cl Pierre Ferrand Dry Curacao
1.5 cl of slightly whipped cream (see below)
Preparation: Stir all ingredients except the cream in a mixing glass on ice until cold. Lightly whip the cream with a milk frother (it should become thicker but not stiff). Strain the drink into the pre-cooled glass and float with slightly whipped cream.
Glass: Goblet or Coupette
Garnish: Cinnamon stick
Buying sources: The exclusive distributor for the Mr. Black Cold Brew Coffee Liqueur in Germany is Tastillery.
*The fact that this product has been sent to me free of charge for editorial purposes does not – in any way – imply any influence on the content of this article or my rating. On the contrary, it is always an indispensable condition for me to be able to review without any external influence.