When someone mentions the name "Werner" in Germany, most people probably think of a comic figure by Rötger Feldmann which is portraying a North-German biker guy, who is working as a plumber, drinking beer and doing some crazy stuff. However – this should come as no surprise – I will not write anything about this comic figure, but rather take a closer look at a number of very interesting vermouth bottlings, which also listen to the name Werner. These bottles have nothing to do with Northern Germany, bikers or beer, but rather with wines, herbs and spices – in addition, they are made in the Southern Palatinate. (provided test product)*
The essence of the Werner vermouths is made at the wine manufactory Ellermann-Spiegel, where pure wines are produced, which then form the basis for the vermouths of the series. Three different bottlings are currently available: a red, a white and a rosé vermouth. However, the exact recipe of the herbs and spices used in the production is not revealed. In addition to the obligatory wormwood herb, fruits (also dried fruits) are used, with an emphasis on citrus fruits. But the central concept of Werner vermouth is to preserve the authentic character of the wine and thus also to offer the base wine a bigger space to unfold. German vine magazine VINUM recently awarded the Werner vermouths, which are available since 2017, the title of best German vermouth.
Although there are some interesting things to learn from the manufacturer, I would have liked to have some additional information. For example, it remains vague where the vermouth is finally produced – only the origin of the base wines is listed transparently.
The RG White is based on a Riesling wine, which is mainly flavoured with yellow stone fruits, but also with exotic and citrus fruits. To my knowledge, the abbreviation RG stands for the white wine variety Rotgipfler, whereby I would have wished for a little more information – if not on the bottles, then at least on the website of the producer (especially for all those who don't have much insider knowledge of the world of wines). By the way, as with the other two varieties, this vermouth is bottled with an alcohol content of 18% vol.
Tasting Notes "Werner Wermut RG White":
Aroma: very fresh with green apple, honey, white peach and some grapefruit. I also think I find a nuance of hay, behind it only very subtle cloves and a hint of laurel and sage. A quite appealing aroma that would have made me guess a white wine during a blind tasting.
Taste: greenish peach, woodruff and at first I unwillingly have to think of a Mai Bowle. But the impression quickly recovers – because this vermouth doesn't really taste like one. Instead, lemon tones come through, wormwood and fresh, green apples mix with a light honey note. All in all very fresh and convincing!
Finish: green apple and not too strong grape sweetness.
Rosé vermouth is not necessarily what you would call omnipresent. On the contrary, they are extremely rare. The Werner Wermut PN Rosé is based on a white pressed Pinot Noir (here the abbreviation is explained, but on the other hand it is relatively obvious due to the much better known Pinot Noir variety).
Tasting Notes "Werner Wermut PN Rosé":
Nose: Again I can find apples, this time less greenish, with strawberries and after some time raspberries, a hint of mint and some orange peel.
Taste: The rosé turns out a little bit sweeter than the white Werner Wermut (at least it seems that way) and also convinces me with some rosehip, strawberries and raspberries, laurel, an idea of orange and cloves. The fruit impressions "darken" over time in the direction of blackberries, but also plums.
Finish: acidulous and fresh with berry tones.
And last but not least there is the Werner Wermut PN Red, which is the most recently published bottle in the Werner series. Here, too, a Pinot Noir is the base wine (in this case, of course, not white pressed) – and here, too, it is basically the same with the amount of further information.
Tasting Notes "Werner Wermut PN Red":
Aroma: Wow, much sweeter, fuller and richer is the first impression of this vermouth. Well, somewhere you would expect that from a red vermouth, especially if it is based on real red wine and was not simply coloured like many red vermouths are. And indeed, I find myself once again in the illusion of thinking of a rather sweet, but very voluminous red wine in a glass. Fruit tea with dark berries, some forest honey, again rose hips and sour cherries. Plums, yes, they are here again. Tobacco leaves, minimal tones of tanned suede and a spicy background make this vermouth my favourite here (admittedly, I prefer to drink red wine and my cocktail favourites are also partly based on red vermouth).
Taste: Yes, this is really great and I like it incredibly well! Fully ripe cherries with cinnamon and an idea of cloves, some honey (not too sweet at all), tannins, even a hint of liquorice. That's a great vermouth, I'm already looking forward to a Negroni with this one!
Finish: dry with astringent bitter tones and dark fruits.
Well, what can I say? The Werner vermouths are – despite my subliminal criticism of the level of information – really excellent! Recently I had the Giovannoni vermouths in my glass, but these ones definitely cap it all off! Very aromatic, very authentic, less sweet, in short: a real pleasure – not only for declared wine lovers (but also for such)! There is little doubt that you will be able to do great things with them in a shaker, but above all in a mixing glass. So I started with a classic and wanted to try the Werner Wermut RG White in a Martini. That worked out outstandingly! Together with a Nikka Coffey Gin, for example, you really get a crispy, fresh flavor festival full of citrus tones with depth and lots of joy.
Of course, I also wanted to try out a Negroni, so I tried the Werner Wermut PN Red. And it passed that test with flying colours as well. I love Negronis and am quite demanding in my expectations, nonetheless I can give the wonderfully fruity-bitter Werner Red with its tannins and its cherries the best mark available – especially because of the little pronounced sweetness! Really wonderful!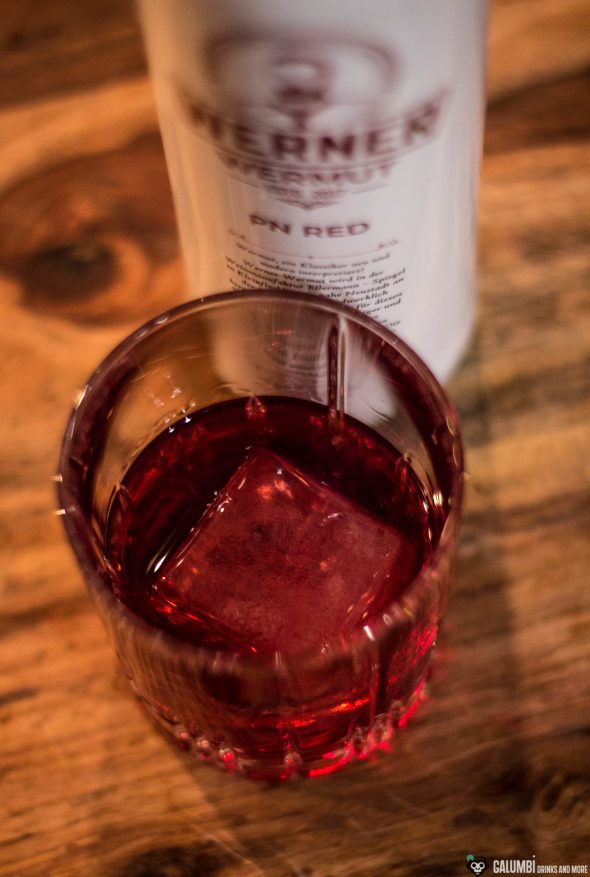 Finally, the Werner Wermut PN Rosé remains – and here I wanted to try something on my own. Well, maybe that's a little bit hammed up, because in the end I only did a Martini variation, which I liked a lot. Here, the Eden Mill Love Gin comes into play in combination with the Werner Rosé, some Aperol, Lemon Bitters and an idea of Fernet (really just an idea, it can't be more than a Dash!). Tongue-in-cheek, I just called the drink "Martiné".
Recipe "Martiné":
5 cl Eden Mill Love Gin
3 cl Werner Wormwood PN Rosé
1 cl Aperol
1 Dash The Bitter Truth Lemon Bitters
1 Dash Fernet
Preparation: Stir all ingredients cold on ice and strain into a pre-cooled glass.
Glass: Martini
Garnish: none
Buying sources: At specialized retailers or online
*The fact that these products have been sent to me free of charge for editorial purposes does not – in any way – imply any influence on the content of this article or my rating. On the contrary, it is always an indispensable condition for me to be able to review without any external influence.