It is now about two and a half years since I wrote about a very interesting and unconventional gin. To this day, I have to admit that I have tried only a few gins that differ so much from the aroma profile of a classic London Dry like Tanqueray or Beefeater – but without, like many New Western Dry Gins, focusing entirely on fruit and citrus aromas and almost becoming a kind of fruit spirit. And today I'm looking forward to meeting the new big brother of the Príncipe de los Apóstoles Mate Gin. (provided test product)*
Now one might wonder why I call a new bottling the bigger brother? Well, I called it that way simply because of the higher alcohol content (53% ABV – the standard version contains only 40%) that the new Príncipe de los Apóstoles Mate Gin Fuerza Gaucha brings with it (if the original name was already kind of a whopper, this bottling caps it all off!). If you now wonder what is new about the Príncipe de los Apóstoles Mate Gin Fuerza Gaucha (I had to write it out again) besides the increased alcohol content, the answer is simple: nothing. It is nothing but the original distillate, which now comes with increased drinking strength. But anyone who knows a bit about spirits will know what a difference that can be. Alcohol acts as an aroma carrier and accordingly I expect something from it. Oh yes: If you wonder what the Principe de los Apostoles Mate Gin is, who Renato "Tato" Giovannoni is and how the Príncipe de los Apóstoles Mate Gin came about, you should read my original article.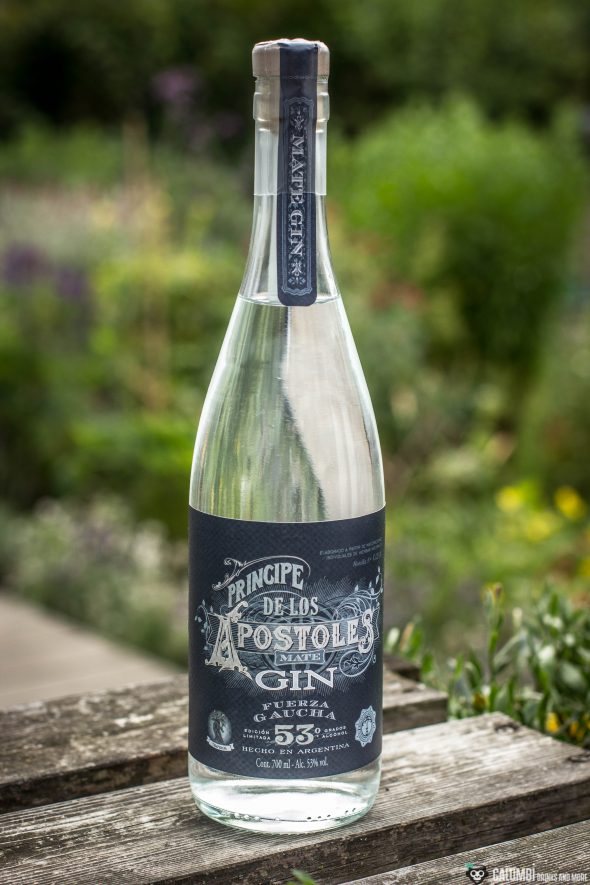 Tasting Notes "Príncipe de los Apóstoles Mate Gin Fuerza Gaucha":
Aroma: The Príncipe de los Apóstoles Mate Gin Fuerza Gaucha also shows the very characteristic eucalyptus note that made the Príncipe de los Apóstoles Mate Gin so unique, but I also find a finer note that reminds me of wild water mint. Behind it there are spicy mate notes, surprising hints of milk chocolate (I have to think a little of "After Eight" chocolate), juniper, some roasted coffee and again a hint of grapefruit. Especially the associations of chocolate and coffee were completely unexpected for me.
Taste: Also on the palate the eucalyptus is the main actor, the mint reminds more of peppermint than of water mint, but the chocolate tones are hardly present. However, there are sweet nuances of cream desserts, juniper, again some mate (although very subtle, nobody has to avoid this gin if he or she doesn't like mate tea) and grapefruit. The higher alcohol content is not in the least disturbing or sharp, I really like this variant too!
Finish: surprisingly bitter and rather dry with eucalyptus; spicy and long lasting.
But that's not all! Today I also have two vermouth bottles in front of me – also designed by Tato Giovannoni. A red vermouth and a white one. Both have their peculiarities: the red vermouth is named Vermouth Rosso de Mayo Giovannoni and was produced on the basis of Argentine Bonarda red wine (those who deal with vermouth will be aware that the majority of red vermouth is only coloured and based on white wines), as well as flavoured with wormwood herbs and Argentine herbs and spices. The same applies to the white vermouth called Vermouth Seco Giovanonni, except that it is based on Argentine Torrontés white wine. Both are very exciting bottlings, which I would also like to take a closer look at. While the red vermouth comes with 15.5% ABV, the white one is bottled with 18% ABV.
Tasting Notes "Vermouth Rosso de Mayo Giovannoni":
Aroma: The first thing that rises towards me is a deep, dark forest honey. Behind it comes the Bonarda red wine with fruity and rich blackberry and cherry notes, in addition an herbaceous flavor with wormwood, clove and a fine hint of camphor. However, the honey always comes back and plays the liveliest tone in the orchestra.
Taste: the honey also characterizes the taste, but less sweet than expected. There are spicy bitter notes, which I attribute to the herbs and spices used, but finally the red wine clearly dominates. Not every red vermouth offers such an authentic red wine feeling with tannins, berries and an astringent nature (which is mainly because most red vermouths contain no red wine at all).
Finish: dry, spicy with berry notes – hardly distinguishable from a red wine in the finish.
Tasting Notes "Vermouth Seco Giovannoni":
Aroma: Wow, a very nice and somewhat unexpected bouquet: peach, grapefruit, mirabelle, lemon, in addition a nice clove undertone – in between you almost think you scent a fruit juice. Wormwood and a note that is difficult to determine, reminiscent of spicy vanilla, forges ahead. I really like the aroma of the Vermouth Seco Giovannoni.
Flavour: Spicy and bitter lemon peels welcome with a less sweet and fruity impression than the nose would suggest (also compared to the Vermouth Rosso de Mayo Giovannoni). Boiled quinces and mirabelle plums mix with a deep, bitter taste reminiscent of a root tea. A very complex and beautiful vermouth – my compliment!
Finish: Complex bitter notes with grapefruit peels, surprisingly persistent.
I will also use the Vermouth Seco Giovannoni in a drink in the future, but today I used the Príncipe de los Apóstoles Mate Gin Fuerza Gaucha and the Vermouth Rosso de Mayo Giovannoni in a Signature Drink which I discovered on the German manufacturer's site and which I simply had to try out. As an avowed Negroni lover, the idea of the Apóstoles-Espresso-Negroni immediately appealed to me, especially as it requires an infusion that lasts only one and a half to two hours and not a whole night. In the original recipe, the regular Príncipe de los Apóstoles Mate Gin is used, but with the additional percentages and aromas of Príncipe de los Apóstoles Mate Gin Fuerza Gaucha (especially the chocolates and roasted coffee notes) the recipe seemed even more promising to me. And the result is really great! A marvellous, multi-layered, deep Negroni that I immediately fell in love with!
Recipe Apóstoles-Espresso-Negroni:
4.5cl Espresso-infused Príncipe de los Apóstoles Mate Gin Fuerza Gaucha (see below)
3cl Vermouth Rosso de Mayo Giovannoni
3cl Campari
Espresso-infused Príncipe de los Apóstoles Mate Gin Fuerza Gaucha: Simply add about 15g of good quality espresso beans to every 100ml of gin and let infuse for a maximum of two hours (I achieved a very good result with one and a half hours). Finally filter out the coffee beans through a sieve.
Preparation: The drink is built in the drinking glass. Simply put all ingredients on solid ice cubes in a pre-cooled glass and stir carefully. Finally, spray with the oil of an orange zest.
Glass: Tumbler
Garnish: dried orange slice
Buying sources: At specialized retailers or online
*The fact that these products have been sent to me free of charge for editorial purposes does not – in any way – imply any influence on the content of this article or my rating. On the contrary, it is always an indispensable condition for me to be able to review without any external influence.