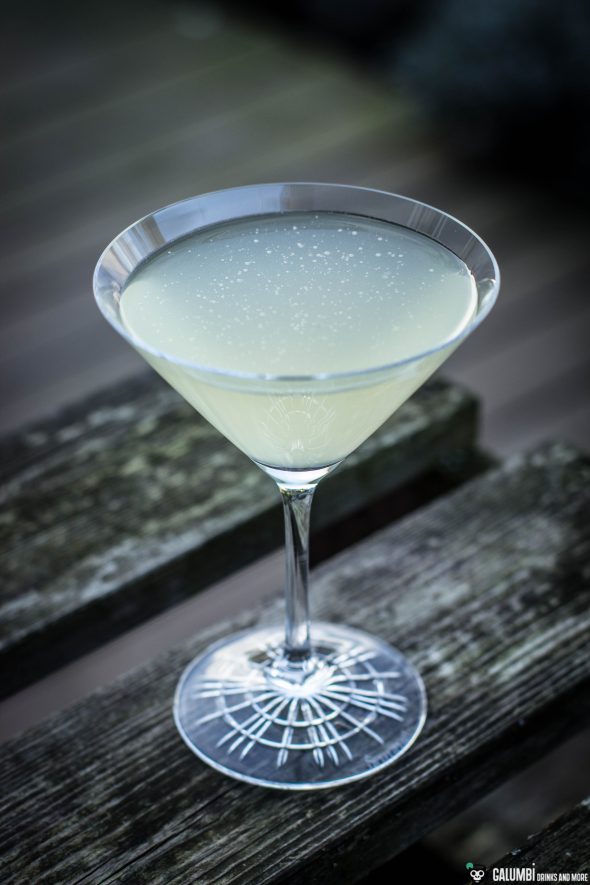 Gin and whisky are of course two very different animals. However, in the eyes of many whisky manufacturers, a real love affair seems to have developed when it comes to the classic juniper distillate. The reasons are certainly quite simple: Gin can be produced much faster than whisky and is a good guarantor of income – especially for young distilleries whose whiskies have to mature for some time before they can be sold under this name. (provided test product)*
In the past I have written about this phenomenon e.g. in the context of my article on the Isle of Harris Gin, but in fact the constellation described above has become a real classic. Moreover, today I once again have a gin from a Scottish whisky distillery in front of me, but it is a very special distillery. The Dornoch Distillery in the Scottish Highlands (more precisely in the village Dornoch on the north coast) was built in the course of a crowdfunding campaign in 2016 by the two brothers Phil and Simon Thompson in a former fire station. The combination of gin and whisky as the main pillars of production was planned right from the start. The Thompson Bros. Organic Highland Gin comes from this distillery.
The beautiful bottle, strongly reminiscent of an alchemist's laboratory, is definitely very appealing and informs us about an alcohol content of 45.7% vol. and on the back label about essential parts of the production process. This is quite interesting: 90% of the gin consists of a wheat-based alcohol, which is then mixed with a botanical mixture and distilled afterwards. What is special here is the fact that frozen, organically grown raspberries and elderberry blossoms are also separately macerated in wheat alcohol and then blended with the previously distilled alcohol. Finally, 10% New Make from malted barley (from their whisky production) completes the final blend. Sounds exciting of course (and also quite fruity and flowery, that's why I'm expecting a New Western Dry Gin). Besides the already named raspberries and elderberry blossoms there also other botanicals used: juniper berries, angelica root, cardamom seed, aniseed, orange peel, lemon peel, coriander seed, meadowsweet and black peppercorns.
Tasting Notes Thompson Bros. Organic Highland Gin:
Aroma: The barley part of the gin is definitely recognizable, I immediately feel reminded of the (very delightful) Icelandic VOR Gin (which is a 100% barley gin). However, only in this respect, because beyond that this is a completely different gin: raspberries and elderberries stand out unmistakably and foreshadow a spicy sweetness. The juniper is not very dominant, but I find aniseed, citrus peels and some crushed pepper. The overall impression is very round and aromatic, but certain cake dough notes, which I attribute to the New Make part, also make the gin very special.
Taste: Surprisingly spicy on the palate – with more juniper than the nose would suggest. The citrus notes remain rather subtle, but aniseed, elderberry and raspberry are quite pithily. Coriander and peppercorns also find their way over time. The New Make provides an exciting basic spice on the palate with subtle toasted notes and a certain sweetness. I really like the Thompson Bros. Organic Highland Gin!
Finish: quite dry with aniseed, hints of raspberries and some crushed pepper.
I would also like to review two vermouth bottles today, which do have a very promising background. The bottles named "Vermouth Del Professore" contain Italian vermouth from the traditional Quaglia distillery (Antica Distilleria Quaglia) founded in 1890 in Castelnuovo Don Bosco in Piedmont. These vermouths, consisting of (white) wine, sugar, herbs and spices (among others mountain mint, wormwood, gentian, cloves and mace) are not only made with the know-how of Carlo Quaglia, but also with the assistance of the famous Italian cook Federico Ricatto and the crew of the Roman Jerry Thomas Project (I've already visited the Jerry Thomas Project and wrote about it here). Accordingly, the name of the vermouths is a tribute to "Professor" Jerry Thomas. The vermouths are available in white (Classico Tradizionale) and red (Rosso all'uso di Torino), but also in a vanilla and a "Chinato" variant (although I won't review the latter two today).
Both variants are bottled with an ABV of 18%. (A little misleading, however, is the colour of the bottle's label: the red label indicates the white vermouth, while the green one is emblazoned on the bottle of the red one.)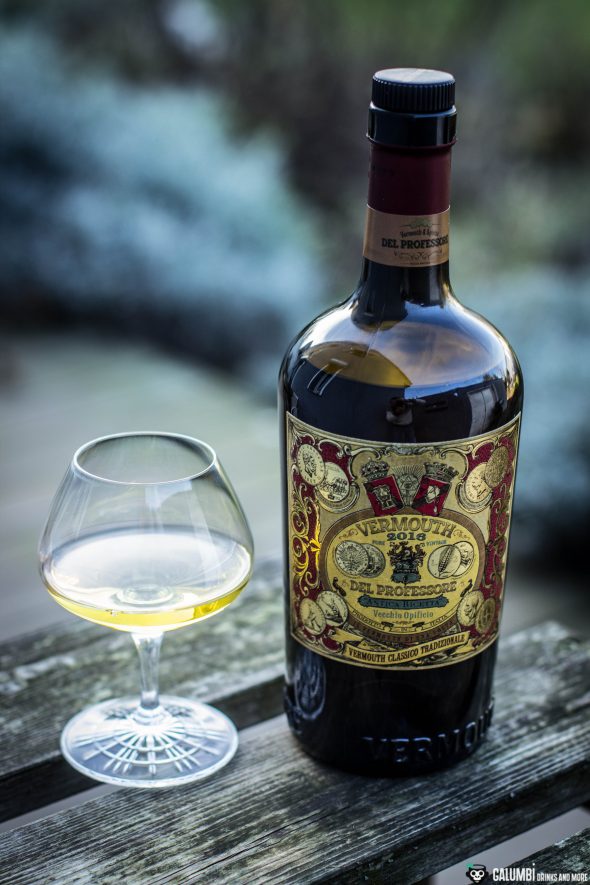 Tasting Notes Vermouth Del Professore Classico Tradizionale:
Aroma: Those expecting a particularly vinous and fruity vermouth will be surprised. The Vermouth Del Professore Classico Tradizionale shows itself from a very spicy side with recognizable cloves, mint, but also orange notes and gentian root. For a moment, the association of a good, white mulled wine comes to me, but in the end this comparison is not quite adequate, which is mainly due to the mint and gentian notes.
Taste: This vermouth is very palatable and soft. In spite of a well-integrated sweetness, I do not have the impression of an exuberantly heady wine, but the spice and herb notes come to the fore very nicely. Gentian root, orange associations, wormwood and again the mint stand out particularly. A very special vermouth – and a convincing one on top of it all.
Finish: rather short, but surprisingly dry with spices.
Tasting Notes Vermouth Del Professore Rosso all'uso di Torino:
Aroma: Actually – and before I wrote down this impression, I led the glass to my nose for several times for quite long – I have to think of fresh oregano first. That is more than unusual, of course, but it is there. Behind it, there are fruity wine notes with gentian, cloves, but also rhubarb, vanilla and orange.
Taste: The Rosso all'uso di Torino seems to have a richer and clearer sweetness than the white version. Certain bitter notes (probably from citrus peel and gentian) make the taste very round and "mature". If the white vermouth seemed very spicy to me, here I would rather speak of an herbaceous vermouth, which comes along more full-bodied. By the way, I do not find oregano on the palate at all, which still leaves me unbelieving, but as soon as I move the glass to the nose, it is back immediately.
Finish: medium long with bitter notes and cane sugar
I will use the Vermouth Del Professore Rosso all'uso di Torino in a few days here also in the context of a cocktail. Today, the Vermouth Del Professore Classico Tradizionale stands aside the Thompson Bros. Organic Highland Gin in a kind of Scottish-Italian experiment. The starting point of my considerations was the classic Martini Cocktail (basically almost a Dirty Martini), which I wanted to modify in a special way. For this, I did an olive oil fatwash to the Thompson Bros. Organic Highland Gin. Yes, I know, it takes some effort and the gin is also a great actor in a martini by itself (I tried that before), but if you want to try this very special drink, there is now way around a little bit of planning in advance. In any case, it is important to use a greenish-fresh and rather grassy olive oil and not one that is too heavy or voluminous. In addition to the very exciting flavours the olive oil brings to the drink, the Vermouth Del Professore is used – and a dash of raspberry eau de vie to underline the berry character of the Thompson Bros. gin a little. That sounds a bit strange, but I can only recommend the drink to any Martini lover (maybe except those drinking their Martini as dry as Churchill).
Recipe "Olio e Lamponi":
4 cl olive oil-fat-washed Thompson Bros. Organic Highland Gin (see below)
2 cl Thompson Bros. Organic Highland Gin
2 cl Vermouth Del Professore Classico Tradizionale
1 Dash raspberry spirit
lemon zest
Olive oil-fat washed Thompson Bros. Organic Highland Gin: Mix Thompson Bros. Organic Highland Gin in ratio of 6:1 with a fresh, grassy olive oil in a bottle or screw glass and let rest for 6 hours. Shake occasionally. Finally let the container freeze overnight in the freezer. Take it out the next day and pierce the frozen layer of fat. Pour the fat washed gin out through a filter cloth and collect it in a new container.
Preparation: Stir all ingredients in a mixing glass on ice until cold and strain into a pre-frozen glass. Finally, spray with the oil of the lemon zest, then discard the zest.
Glass: Martini
Garnish: none
Buying sources: At specialized retailers or online.
*The fact that this product has been sent to me free of charge for editorial purposes does not – in any way – imply any influence on the content of this article or my rating. On the contrary, it is always an indispensable condition for me to be able to review without any external influence.