Anyone who has spent time in various German bars recently, or at least takes part in the virtual cosmos surrounding bars, cocktails and spirits, will certainly have stumbled upon the term "Freimeisterkollektiv". For me, it was similar, too, because before I even knew what or who the Freimeisterkollektiv is, I had first seen the term on those iconic, simple and informative bottles of the series for several times. Therefore, it is time to pay a little more attention to the series. (provided test products)*
So who is the "Freimeisterkollektiv" (it means as much as Free Master Collective)? Behind the term stands a small company from Berlin, which is basically exactly what its name already reveals: a collective. This collective is formed by various distillers and bartenders who have joined forces to offer high-quality and sometimes very innovative spirits specifically designed for bars and connoisseurs, which are sold at moderate prices and without middlemen. According to their own statement, they also want to make a contribution to not leaving the spirits market to the industrial giants alone.
Part of this approach is also to proceed with a high degree of transparency and to provide exact information about where the product comes from, what is contained in it and who has produced it. Only artisanal spirits produced by small distilleries are used. Additives or artificial flavours are not used, the same applies to yeast, flavour extracts, artificially added sugar (unless, of course, the spirit genus requires it) or genetically modified raw materials. In addition, they attach great importance to sustainability in their production. This all sounds very nice and worthy of support! They have my sympathy for such an approach without any doubt.
If you want to get a complete overview of the range of products and the different distillers and bartenders belonging to the collective, you should definitely have a look at the website of the Freimeisterkollektiv. I will publish my personal reviews of the bottlings provided to me for an editorial purpose here in the blog over the next few weeks, step by step. The sheer number of different spirits and especially of the aromatic profiles alone would quickly overburden a single article, as I naturally don't want to deviate from my usual procedure of providing tasting impressions of the neat spirit as well as suitable cocktail suggestions, thus also addressing the much-vaunted "mixability".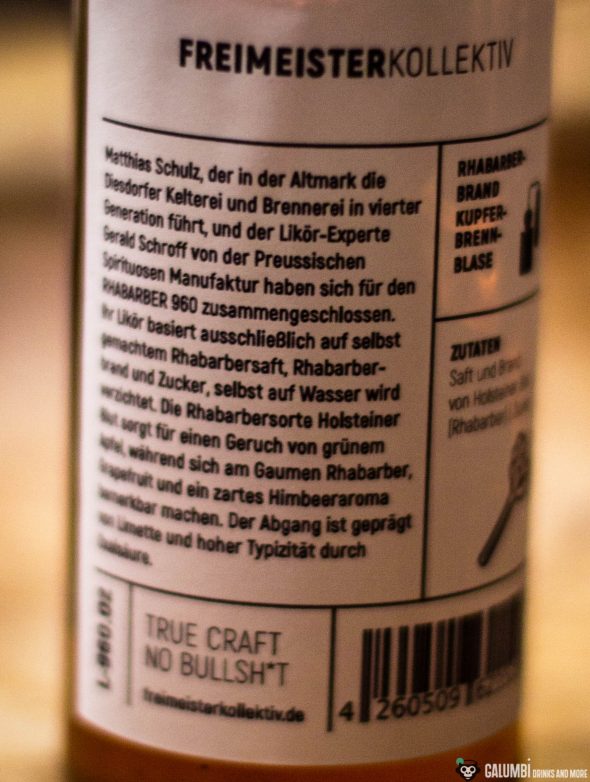 I really like the already mentioned labels, which are kept very simple in themselves. Sure, I'm always up for really well done design, but in the end it's always about the informative aspect – and that's really well done here. Without much fuss, you learn about the ingredients used, the taste profile shown in a diagram, the responsible distiller or bartender and of course the style of the spirit as well as the name. There is also a number on the label which is part of the internal structure of the product range.
I would like to start today with the Freimeisterkollektiv Doppelwacholder and the Freimeisterkollektiv Rharbarber (which means rhubarb). In addition to these, I will also present the following bottlings here in the coming weeks, which will then successively also get linked here in this article:
Freimeisterkollektiv Quinoa (Wodka)
The first is the Freimeisterkollektiv Rhabarber, which – as the label indicates – is a liqueur. This rhubarb liqueur was conceived and produced by Matthias Schulz, a fourth-generation wine press house and distillery operator, in collaboration with Gerald Schroff from the Preussische Spirituosenmanufaktur (Prussian Spirits Manufactory) (whose Galangal Cream Liqueur I like to use from time to time). The liqueur is based on rhubarb juice and rhubarb spirit, which is nothing you should take for granted. Anyway, with this liqueur they want to distance themselves from the majority of the liqueurs available on the market, which are partly based on artificial flavours, but also on components from industrial production, which are only "mixed together" (e.g. agricultural alcohol). Of course sugar also finds its way into the Freimeisterkollektiv Rhabarber, because we are dealing with a liqueur. Otherwise, however, only homemade rhubarb eau-de-vie and rhubarb juice of the Holsteiner Blut variety, which is known for its rhubarb-typical characteristics, have been used.
Tasting Notes "Freimeisterkollektiv Rhabarber (Likör)":
Aroma: On the nose, there is a surprising amount of apple, especially a greenish and fresh one, but of course also fruity and authentically scented rhubarb. I also find a fine, subliminal vanilla that subtly carries the aroma.
Taste: On the palate, rhubarb dominates at first – how could it be otherwise? However, at no time does it seem artificial or exuberant, rather it is very well integrated into a skilful sweet-acid balance. Keyword sweetness: This liqueur is by no means sticky-sweet or sugary, here, they really found a good measure. I also find some vanilla, berry notes and a hint of lemon, but also associations of candied orange.
Finish: Also in the finish, there is rhubarb with long lasting fruit acidity and some bitter orange
Besides this rhubarb liqueur I also decided to focus on the Freimeisterkollektiv Doppelwacholder. Perhaps a few words about this category are needed first. A Doppelwacholder ("double juniper") is – who would have thought it – a German juniper spirit. Since juniper does not contain enough sugar on its own to produce a fermentable mash that could eventually be distilled into a juniper spirit, Wacholder (the major category a Doppelwacholder also belongs to) and also gin is produced via maceration. While in Europe only an abv of 30% is the minimum alcohol content for juniper schnapps, in Germany it is 32% abv. For a Doppelwacholder, however, it is 38% abv. And if you consider that the only fixed ingredient for a gin is juniper and the minimum alcohol content is 37.5% abv, then it simply follows that a Doppelwacholder is also a gin (but not every gin is a Doppelwacholder). In contrast to gin, however, juniper schnapps is based exclusively on the taste profile of juniper – without much "botanical fuss" (in view of some modern New Western dry gins, it is easy to forget that gin is actually a juniper spirit).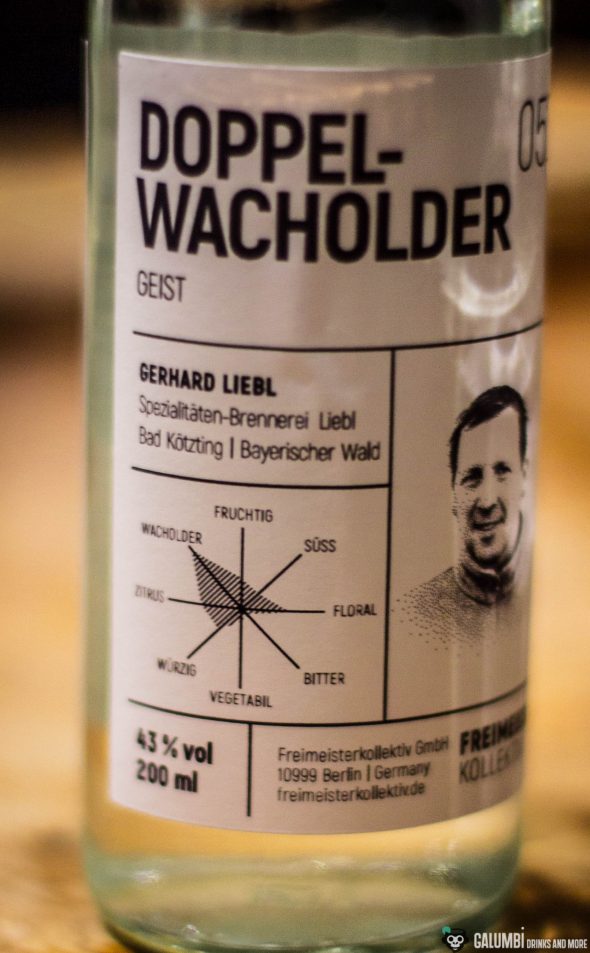 So, now to the Freimeisterkollektiv Doppelwacholder. Responsible for this Doppelwacholder is Gerhard Liebl, who comes from a family of wine and spirits dealers who have also been producing their own spirits since 1970. Liebl uses only fresh Tuscan juniper berries for his Doppelwacholder to avoid a too resinous aroma in the final spirit. The base alcohol is a wheat distillate in which the berries macerate for 48 hours. Within five hours, the Doppelwacholder is then distilled on a 150 litre still. After distillation, the double juniper is first matured for a few months in earthenware containers before being bottled with a promising abv of 43%, which is not necessarily typical for a Doppelwacholder (they often contain between 38% and 40% abv).
Tasting notes "Freimeisterkollektiv Doppelwacholder":
Aroma: Oh yes, this is a clear, crisp and very pleasing juniper, which rises unmistakably from the glass here. And indeed, it's conspicuously not very resinous, but instead has a certain citrus freshness, which would probably have made me blindly suggest a very dry and juniper-heavy gin. Herbaceous notes are also present in the background (a hint of rosemary, associations of peppermint) as well as woodsy pine tones. A very beautiful nose!
Palate: On the palate, this Doppelwacholder is also quite impressive with complex and very beautiful notes of the berries that give it its name. Rosemary and slight menthol associations are present again, but a spicy lemon stands out in particular, making it hard to believe that no lemon peel has been processed here. Black pepper is indeed also present, and I can find a very subtle, mossy undertone.
Finish: dry, very juniper accented and surprisingly long
It was just this beautiful, honest and yet fresh and lively juniper character that gave me the idea for today's cocktail. It is the result of a modification of a classic cocktail of the 1920s, which I first discovered in Harry Craddock's famous Savoy Cocktail Book. The drink goes by the strange name of Mule's Hind Leg (whose context of origin is unfortunately unknown to me – if you know something about it, please drop a comment below) and actually consists of Gin, Applejack, Apricot Brandy, Benedictine and Maple Syrup – and all in equal parts. I admit that, sticking to the recipe listed by Mr. Craddock, this drink did not convince me, but it did with altered proportions and with considerably less sweetness. Therefore, I used equal proportions (3 cl each) of the Freimeisterkollektiv Doppelwacholder and of Daron Calvados XO (instead of the less aromatic Applejack) and replaced the Apricot Brandy with the Freimeisterkollektiv Rhabarber, which harmonizes wonderfully with apple and juniper. The proportion of the rhubarb liqueur is only half as high (1.5 cl) and rounded off with only a bar spoon of D.O.M. Benedictine. Maple syrup didn't make it into my drink, because I deliberately wanted a less sweet and instead fresh and complex version. Also, my version is not shaken, as Craddock still demands, but stirred. And this drink really inspires me in this way, it simply seems more complete. That's why it's now called Four-legged Mule.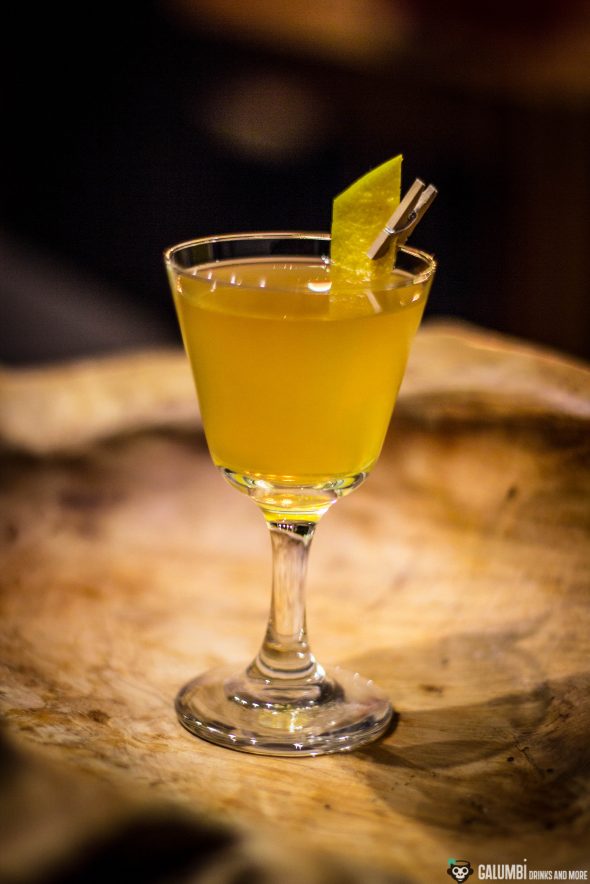 Recipe "Four-legged Mule":
3 cl of Freimeisterkollektiv Doppelwacholder
3 cl Daron Calvados XO
1.5 cl Freimeisterkollektiv Rhabarber
1 bar spoon D.O.M. Benedictine
Preparation: Stir all ingredients on ice until cold and strain into a pre-cooled glass. Spray with the oil of a lemon zest.
Glass: Goblet / Short drink
Garnish: lemon zest
Buying sources: At specialized retailers or online
*The fact that these products have been sent to me free of charge for editorial purposes does not – in any way – imply any influence on the content of this article or my rating. On the contrary, it is always an indispensable condition for me to be able to review without any external influence.