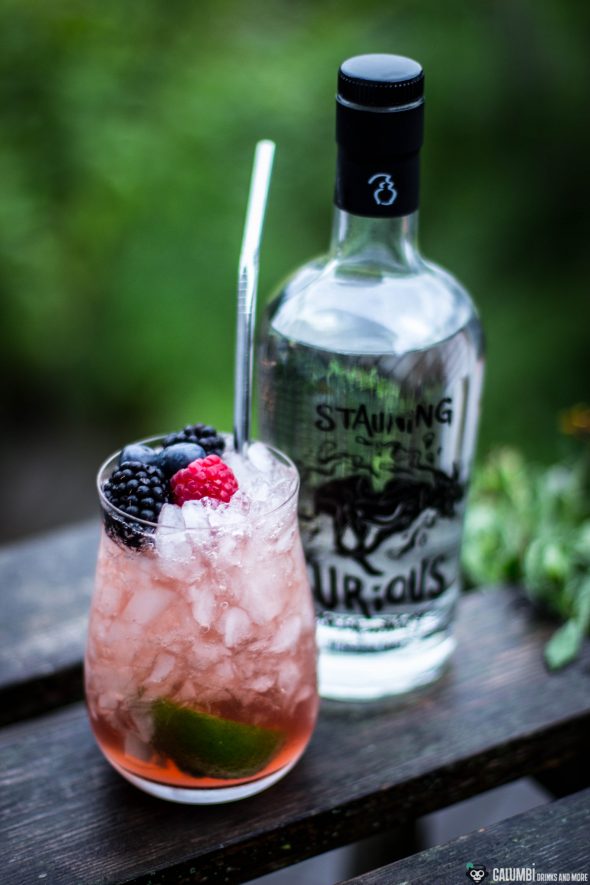 Yesterday I did already announce it – so I want to deliver today! After my tasting of the Stauning Rye and a suitable cocktail suggestion, it's time for the Stauning Curious from the so called "Research Series" of the Stauning distillery. To what extent we are dealing with more than a mere white dog here, I will briefly outline in the following. (provided test product)*
This white dog is a very special one, because it is not just a bottling of the unmatured raw spirit, which was reduced to drinking strength, as you might expect it. Instead, a grain mixture of 70% malted rye and 30% malted barley is dried again separately over peat fire after the malting process, so that a smoky taste finds its way into the final product. The manufacturer compares this white dog's taste profile with the one of Mezcal or some grappas, which makes me really curious (no pun intended). A corresponding recommendation for cocktails is also given. However, before I dare to try it in a cocktail, I will have a closer look at the Stauning Curious (which is bottled at an ABV of 43% vol.) in the tasting.
Tasting Notes "Stauning Curious":
Aroma: A surprisingly rich smoke characterizes "the nose" of the Stauning Curious. It has rather warm notes of a campfire and makes me think of some smoked bacon, also minimal notes of crude oil blend in. As a reference for friends of smoky Islay malts, I would most likely compare it to a Bowmore here. The Stauning Curious is a bit away from the intensity of a Lagavulin, and the cold phenolics of ash and gasoline that a Laphroaig has to offer are not to be found here. But I like the smoke aroma of this white dog very much. Behind it there are peppery and earthy notes (in fact the mezcal comparison is not plucked out of the air), some moss, rye and hints of dried fruits.
Taste: Again, smoke reminiscent of smoked bacon, maybe even some smoked eel. The official tasting notes speak of plastic, which of course is irritating when reading – but actually there are light plastic notes in the overall picture… and they don't disturb, they fit harmoniously into the picture. An oily sweetness covers the tongue and brings out nuances of liquorice, but also something vegetal.
Finish: long with aromatic smoke, bacon with maple syrup.
The cocktail in which I use this extraordinary white dog is basically a variation of the Knickerbocker Cocktail, but with a few variations at different places. The reasons why of all things I opted for a Knickerbocker variant were twofold: on the one hand, I associate Denmark (as well as other Scandinavian countries) with a pronounced love of berries. When I was in Denmark for the first time as a child, I noticed the many berries at the breakfast buffets, some of which I didn't even know. There were also many different berry teas, which fascinated me. And the Knickerbocker knows how to emphasize berry notes in an aromatic and appealing way. Instead of the raspberry emphasis in the original, however, in my Knickerbocker på Dansk I have focused more on the blackberry, because with its somewhat stronger aroma it harmonizes quite well with the Stauning Curious, which really doesn't want to hide in a drink. A little orange as a counterpoint also comes into play through Pierre Ferrand Dry Curacao, while a nuance of heat finds its way into the drink through the fruity Bittermens Hellfire Habanero Bitters. The other reason for the Knickerbocker is his very elegant play with the quantities of ingredients. Although we basically see the structure of a sour here, the juice content is very low and allows the basic spirit a much more expressive appearance. Not that the Stauning Curious needs such assistance, but the drink flatters it in a very tasty way. But now enough of the words, here's the recipe for the Knickerbocker på Dansk.
Recipe "Knickerbocker på Dansk":
5 cl Stauning Curious
1.5 cl Crème de Mure
2 bar spoons Pierre Ferrand Dry Curacao
2 Dashes Bittermens Hellfire Habanero Shrub
Juice from ½ Lime
Preparation: Put all ingredients in a shaker and fill with crushed ice. Place the squeezed lime half into the pre-cooled glass. Shake vigorously and pour the entire contents of the shaker without straining into the glass with the lime half.
Glass: Tumbler
Garnish: a few fresh berries
Buying sources: At specialized retailers or online
*The fact that this product has been sent to me free of charge for editorial purposes does not – in any way – imply any influence on the content of this article or my rating. On the contrary, it is always an indispensable condition for me to be able to review without any external influence.