Today the time has finally come and I'm going to publish an article that has been on my mind for a long time. Although I have already used brandy as an ingredient in various cocktails in the past, I did not present a specific brandy here or wrote about the topic in general (apart from various cognacs). Therefore, we will see that brandy is not always brandy and that there is no way to avoid some basic definition work here. (provided test product)*
The word "brandy" is indeed a term that has a lot of confusing potential. Almost everyone knows it, but most people do not really know what it means exactly. In the English-speaking world, the term can be quite misleading because it describes very different things and is used in very different contexts. Well, let's take one thing at a time.
Brandy is nothing more than the short form of "brandy wine" and describes a distilled wine. This should not be mistaken with spirits that are also often called brandies, for example fruit brandies (which sometimes even do not distinguish between eau de vies and fruit liqueurs) or pomace distillates. The world's most famous brandy is certainly the French cognac (which has even led to the term "cognac" being used to describe any type of brandy in the German-speaking world, although cognac is a term protected by the French AOC regulations). When my grandfather asked for a "cognac", then this was by no means a brandy from the French Cognac region, but usually a mediocre brandy from somewhere else.
The brandies that I am concerned about and todays bottle belongs to, represent an own protected category called "Brandy de Jerez". It is easy to speak of cognac as cognac (to avoid any misunderstandings) or of eau de vies instead of fruit brandy, but a Spanish Brandy de Jerez is simply a brandy. There is no other word and this is the reason why I will always think of that particular kind of spirit whenever I am just speaking of brandies. Anyone who has ever been to Andalusia and Jerez in particular will know that Jerez is a city that is mainly famous for its sherry production, and probably any visitor to the city will at least think about visiting a traditional sherry bodega. But what is special about Spanish brandy?
The history of the Spanish brandy goes back to the Moorish period in Andalusia. The Muslims (officially) were not allowed to drink alcohol and therefor (also officially) began distilling wine for medical purposes and thus formed the roots of what later became the brandy. To this day, Brandy de Jerez is produced on two different types of stills: on the one hand copper pot stills that were also used by the Moors, and on the other hand modern column stills. While the pot stills create brandies with an alcohol content between 40% and 70% ABV (which are also called holandas), the column stills produce higher-percentage brandies (between 70% and 94.8% ABV, which are also referred to as destilados). Before bottling these different brandies are blended, whereby the holandas are responsible for the intense flavors while the less aromatic destilados round the final brandies off. Therefore, it is not surprising that at least 50% of the finished brandy must consist of holandas. The permitted drinking strength for the final bottling of a Brandy de Jerez must at least reach 36% ABV (unfortunately, it is very common to reduce the drinking strength below an ABV of 40% – for spirits enthusiasts that's often disappointing because very often I would wish for more here. However, fortunately that's not the case with today's bottle, but more on that below).
Incidentally, the base wines the Brandy de Jerez is distilled from, have a comparatively high alcohol content of 10.5% to 13% ABV (for comparison: in the cognac production the base wines are usually between 7% and 8%). Brandy de Jerez is usually distilled only once in order to keep as many flavors as possible inside the spirit.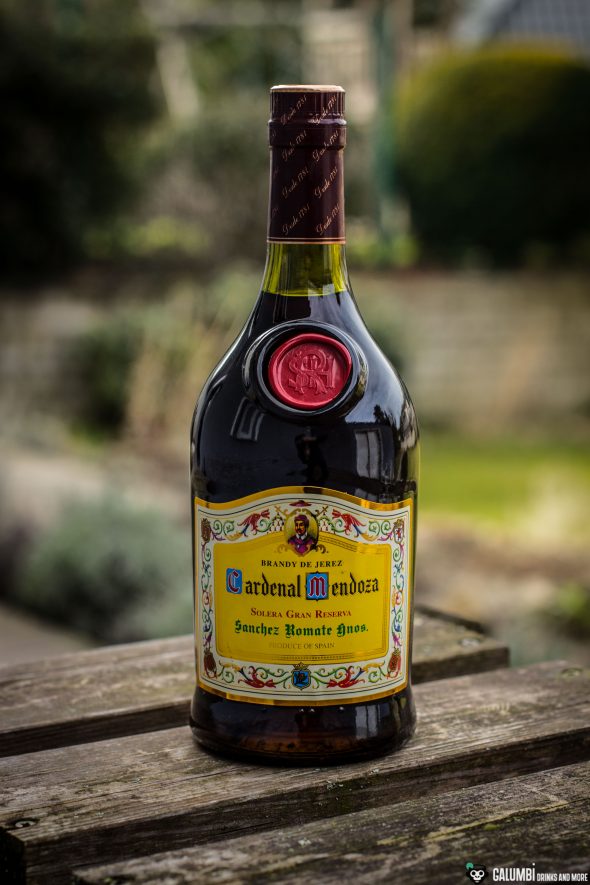 After distillation, a maturation time in the notorious Soleras is the next step. Soleras have their roots of origin in Andalusia, but unfortunately they don't deliver exactly reliable age classifications, as they are known for example from the production of whisk(e)y. In a solera, several barrels of different age are stacked and after the removal of brandy from the oldest barrels at the bottom row, these barrels are refilled with brandies from the rows above, etc. while the top row is filled with fresh distillate. So it is always only a part of the final brandy that really has a particular age, depending on the frequency of removal. So usually, no constant age concentration is guaranteed. The barrels used in the brandy production consist of American oak and previously contained sherry. Although you can certainly utter some legitimate criticism regarding this method, you should keep in mind the historical reference of this maturation process (in contrast to many Solera-using South American rum producers where no such old tradition exists). In fact, the Solera maturation for Brandy de Jerez is even required by Spanish law.
Against this background, three different age groups can be distinguished: Brandy de Jerez Solera with an average age of one year, Brandy de Jerez Solera Reserva with an average age of three years and finally Brandy de Jerez Solera Gran Reserva with an average age of at least ten years.
I guess that should be enough introducing words. It is finally time to take a closer look at today's bottle. The Cardenal Mendoza Clásico Solera Gran Reserva is a brandy of the oldest age category. The Andalusian family company Sánchez Romate Hermanos, which was originally founded in 1781 as a winery in Jerez de la Frontera, is the manufacturer of this product. Brandy is produced there since 1887 and it is part of the marketing history of today's bottle that the Cardenal Mendoza Solera Gran Reserva dates back to this year. Anyway, the Cardenal Mendoza Clásico Solera Gran Reserva matured for an average time of 15 years in former Oloroso and Pedro Ximénez casks (if you know just a little bit about sherry, you will know that these sherries are among the most sweet types). It is bottled at 40% ABV. Incidentally, the brandy was named after a cardinal of the 15th century, who is said to have even advised the Spanish queen on Christopher Columbus' journey.
Well, how does such a brandy taste?
Tasting Notes:
Aroma: Seductive, dark sherry tones indicate the barrel aging in Oloroso and Pedro Ximénez barrels, a fine wine fruit paired with butter caramel, liqueur-soaked biscuit, sweet raisins and an idea of bitter chocolate.
Taste: A very balanced brandy with mild alcohol; it shows a deep sweetness of Oloroso sherry, raisins, chocolate, spicy oak notes and some black coffee. A great taste experience that really enthuses me!
Finish: Long lasting and warming with sweet sherry and oak
To use Spanish Brandy de Jerez in cocktails can be very multifaceted and is full of opportunities. If you should use the search option here in the blog, you will probably discover some drinks for which I have used the Cardenal Mendoza in the past, for instance the Brandy Blazer or the Chrysanthemum Prince. However, those of you regularly reading in classic cocktail books will often find "brandy" as an ingredient. But – especially in American books – most of these recipes call for French Cognac (or Armagnac). Some of these recipes, however, are even better when using a fine Brandy de Jerez. When I mixed my Granadero cocktail it was exactly such a recipe which I had in mind. It is nothing more than a "Spanish version" of the Grenadier cocktail from Harry Craddock's Savoy Cocktail Book. The original recipe calls for "Brandy", "Jamaica Brandy", "Ginger Brandy" and powdered sugar, which I have not implemented in my version (it is simply sweet enough in the way it is). The Granadero cocktail mixes as follows:
Recipe "Granadero Cocktail":
6 cl Cardenal Mendoza Clásico Solera Gran Reserva
2 cl PSM galangal liqueur (alternatively another galangal or ginger liqueur)
2 Dashes King's Ginger Liqueur
Preparation: Stir all ingredients on ice until cold and strain into a pre-chilled glass.
Glass: Coupette
Garnish: Griottines cherry
Buying sources: At specialized retailers or online.
*The fact that this product has been sent to me free of charge for editorial purposes does not – in any way – imply any influence on the content of this article or my rating. On the contrary, it is always an indispensable condition for me to be able to review without any external influence.