Today I would like to introduce a cocktail that I personally like to drink a lot but which is usually not named among the most prominent of its genre. And it is not a down-to-earth classic from an ancient cocktail tome but a drink from the world of tiki drinks which is often considered to be an ambivalent cocktail category. Nonetheless, the drink is not a spring chicken at all.
The cocktail listens to the programmatically tiki'esque name "Kamehameha Rum Punch". And to avoid any misunderstandings concerning that name, I want to elucidate what it's all about: this cocktail has nothing to do with the Japanese manga Dragon Ball Z! While some of the protagonists in that manga shoot some half-magic energy balls while shouting out "Kamehameha", the Kamehameha Rum Punch is actually named after a hotel. This, of course, is named after the famous first king of Hawaii, Kamehameha I (also Kamehameha the Great).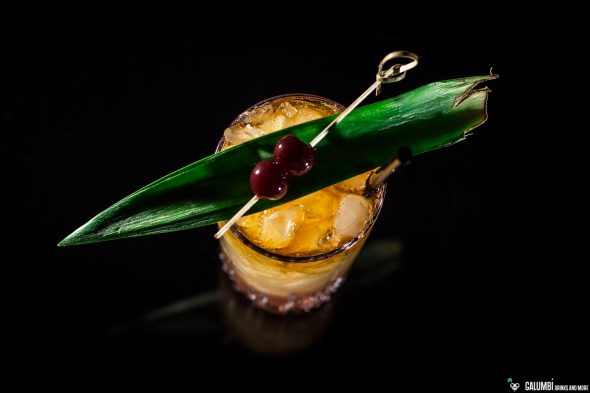 As in the 1940s and 1950s the Polynesian inspired pop culture most people refer to as "Tiki" reached its peak in the US (the pioneers of that "movement" were especially Ernest Raymond Beaumont Gantt aka Don the Beachcomber and Victor Bergeron aka Trader Vic with their "Polynesian" restaurants and bars), it did not take long, of course, until people started to long for traveling into the romantic world of Polynesia. However, at a time when Hawaii was publically discussed to become the 50th state of America, the big tourist waves found virtually nothing of what they expected on the islands. Most visible cultural traces of the Polynesian inhabitants were almost completely eradicated from the public during the 19th century and Polynesian-inspired bars and restaurants like the ones known from the mainland were sought in vain.
Of course, it did not take long for this gap in the market to be closed. Here, among other, Grace Buscher and Gus Guslander were a very successful couple and opened a whole series of hotels, among them also the King Kamehameha in Kona, Big Island. And that's the place where also the Kamehameha Rum Punch comes from. I first came upon the drink by a recipe from "Beachbum Berry" (I have only slightly modified it). I like to prepare it with two different Plantation Rums, the "Three Stars" and the "O.F.T.D. Overproof" (which replaces a Jamaican rum in the original recipe).
Recipe "Kamehameha Rum Punch":
3 cl Plantation "Three Stars"
3 cl Plantation "O.F.T.D. Overproof"
5.5 cl pineapple juice
1.5 cl lemon juice
2 bar spoons creme de mure
1 bar spoon Darbo pomegranate syrup
1 bar spoon sugar syrup
Preparation: Add all ingredients except for the Plantation O.F.T.D. in a glass filled with crushed ice and stir. Finally float with Plantation O.F.T.D. Overproof
Glass: Highball / Longdrink
Garnish: pineapple leaf and two brandied cherries
Buying sources: At specialized retailers or online.