The history of cocktails in a very broad sense is, of course, much older than the word cocktail itself. (Alcoholic) drinks that are mixed with other ingredients are presumably as old as alcoholic drinks themselves. Well, I know that this is not in accordance with Harry Croswell's definition of cocktails in The Balance and Columbian Repository of 1906 ("Cock-tail is a stimulating liquor, composed of spirits of any kind, sugar, water, and bitters") but today mixed drinks of almost every kind are referred to as cocktails. But who has ever thought about a cold, Andalusian vegetable soup when it came to the word "cocktail"? (provided test product)
If this question should have surprised you a bit and if you should be thinking about the possible context right now, I can help you quite easily because the famous cold soup "Gazpacho" is a dish which basically has a "cocktail past": in the times of the Roman Empire, legionaries liked to drink wine during their long marches. The fact that the wine of those days was not necessarily among the best (according to today's standards) was already shown in scientific experiments where historians and enologists recreated wine according to recorded Roman recipes. The result was more or less worse than the cheapest wine we can get in any supermarket today. And it doesn't need much fantasy to imagine that the legionaries themselves did not always carry the best wines with them. So they developed the habit to mix their sour wine with cucumbers, bread and some oil, and so the ancestor of today's Gazpacho was born.
Why do I tell you all this? Well, because it is the gazpacho that basically (together with the Bloody Mary) has inspired me for today's cocktail. The fact that Spanish recipes have also spread in Mexico is, of course, not surprising in terms of colonial history. I can reassure you: neither will I mix bread into my cocktail, nor do you have to "drink" it with a spoon. But it's a drink from the hearty category. The idea for this drink came to me while having ​​a Mexican-inspired gazpacho for lunch. Nonetheless it does not taste like a classic gazpacho because beside the hearty notes of the tomato juice there are also some other ingredients in there like some watermelon and lime. With some salt and pepper, a little hot sauce and a coriander-lime oil (which is also a visual highlight) my "Mezpacho" is ready. But no matter whether it is more of a Bloody Mary twist or actually really related to a Gazpacho (which at least was my main influence), the real protagonist in the Mezpacho is the San Cosme Mezcal. Linguists and etymologists may forgive me for that word creation.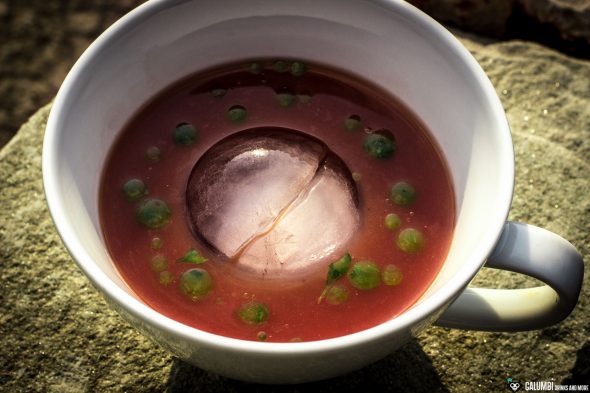 The San Cosme is one of the first Mezcals I personally came into contact with here in Germany. Although I have had my first Mezcal in the USA, unfortunately I don't remember what specific brand it was. Well, I first came upon the San Cosme about 5 years ago in a really exceptionally well-stocked spirits department of a supermarket near my former home place. And for a long time, the San Cosme has become my standard mezcal quality for cocktails and I still like it very much until the present day. The San Cosme Mezcal is prepared in the traditional way. It is made 100% from the Agave Angustifolia Haw (Espadín), which is baked in earthen pits and then ground in the Tahona before undergoing a fermentation process (for further details you can also have a look at my article on the Miel de Tierra Mezcals). It is a non-matured mezcal which has been distilled twice. The producing distillery is the Comercializadora y Envasadora de Mezcales in the Mexican state of Oaxaca. The manufacturer emphasizes that the production is made in small batches. Compared to other Mexican mezcal producers, however, the batches are certainly nonetheless not so small.
The name San Cosme goes back to the patron saint of physicians, Cosmas, who, together with his twin brother Damian, is said to have healed others free of charge in the early Christian legends. Unfortunately the San Cosme does not come free of charge but with a price between 25 and 30 euro it offers a really good price-performance ratio. And of course you should not expect or even try to heal your sicknesses with it. The San Cosme Mezcal is bottled with 40% vol.
Tasting Notes San Cosme Mezcal:
Aroma: A nice and typical smoke unfolds on the nose, the typical earthy agave notes are also there with a little mineral salt, a touch of citrus peels and an idea of moss.
Taste: Full-bodied, smoky and aromatic with hints of cinnamon and the typical agave character. Oily and full-bodied.
Finish: long, with fine smoke, moss and salt
Recipe "Mezpacho":
5 cl San Cosme Mezcal
12 cl tomato juice (best fresh from the juicer)
6 cubes of watermelon (about 1.5 x 1.5 cm in size)
3 cl lime juice
1 bar spoon agave syrup
pinch of salt
pinch of pepper
½ to 1 bar spoon of hot sauce (for instance La Costeña Salsa Picante)
Coriander-lime oil (see below)
Coriander-lime oil: Simply muddle the zests of half a lime with a handful of fresh coriander (cilantro) leaves and about 6 cl of extra virgin olive oil (approx. 6 cl) with a pestle and mortar until the oil emulsion has a clearly green color.
Preparation: In contrast to a classic Bloody Mary, the Mezpacho is not "rolled" but shaken. But before you do so, however, first place the melon pieces in your shaker and crush them with the muddler. Then add the remaining ingredients except for the coriander-lime oil and shake vigorously on ice. Double-strain into your pre-chilled cup filled with an ice sphere and sprinkle with a few drops of coriander-lime oil.
Glass: Cappuccino cup
Garnish: coriander-lime oil
Buying sources: At specialized retailers, well-stocked supermarkets or online. Some of the ingredients can also be found in regular supermarkets.