There are those times in a year when suddenly it feels like a thousand tasks evolve around you at the same time and suddenly you don't have that much time to the things you like to do. That's what actually was happening in the last days which is why my publishing frequency has unfortunately suffered a little bit. But I hope that this situation will somewhat stabilize. Anyway, today I once again want to introduce a gin. One with a very unique background.
Unique because it comes from Scotland's first distillery which is simultaneously also a brewery, namely the Eden Mill in St. Andrews. St. Andrews is located on the east coast of Scotland and is rather to describe as a very small city with round about 16,000 inhabitants. Next to whisky and beer the Eden Mill is also producing gin. Very special ones to be exact. Today's gin is the so called Love Gin which distinguishes itself optically from other gins in more than one respect. First, it comes inside of a nice ceramic bottle that – although it allows no view of the content – definitely shines out. On the label you can see a rose which of course is not entirely gratuitous: When the gin is poured into the glass, it reveals a fine pinkish colour which is very unusual for a gin. This is because of some very special botanicals used in the making. These include besides the classic juniper for example red rose petals, goji berries, hibiscus flowers and rhubarb.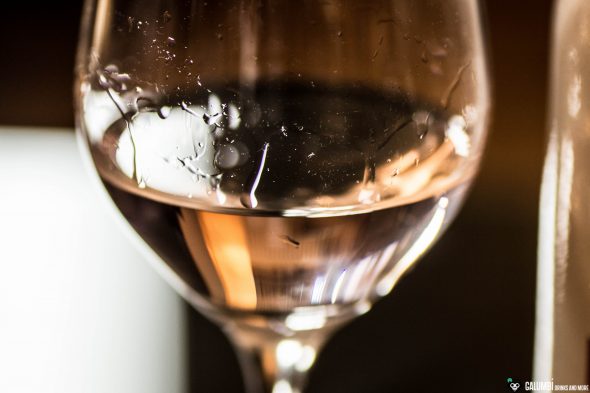 The Love Gin is bottled with 42% vol. Due to its color and very interesting flavor components, which I will elaborate further in the tasting, it offers a lot of innovative opportunities for using it as a cocktail ingredient. For example I have used it in the Good for the Gander cocktail, but it may also work excellent in a classic gin & tonic with frozen raspberries or in a very flowery Martini variant with a rather sweet Dolin Vermouth and a rose petal as a garnish. But the Love Gin is also quite convincing when having it pure.
Tasting notes:
On the nose it's obviously a gin with distinct juniper but then there is a very gentle character to it. Besides some vanilla I can especially scent citrus notes and subtle berries, which contribute to a very nice overall picture.
On the palate there is a distinct berry character next to the juniper. Even some rhubarb is tastable and bestwos the Eden Mill Love Gin with a taste profile that corresponds with the color of the spirit.
In addition to the Love Gin, Eden Mill also produces the Original Gin, the Oak Gin and the Hop Gin.
Buying sources: In specialized stores or online. If you are a spirits dealer yourself, I can recommend you to look for the Eden Mill Love Gin here (only in German language).