"No story. Just whisky." Anyone who describes his water of life like that on the bottle label definitely has my attention. Sure, stories, legends and anecdotes all have their places in the whisky world, but you don't want all of them as an end consumer, especially if it's just made-up marketing nonsense. And if you take a closer look at today's bottle, you'll find not only a wink, but also a real transparency offensive. But first things first. (provided test product*)
The bottle with said slogan is the "Faude Whisky Roggen" with an age of three years. Wait a minute, Faude? Isn't that the one with the fruit eau-de-vies? And didn't he also do something with gin?
Exactly! I have already reported on Florian Faude in various places here, be it in the article about his original fruit eau-de-vies, his activities with agave spirits from the Black Forest, or in connection with South African-inspired diamond gins or also with B my Gin. And now there is also a rye whisky from the house of Faude, which makes absolutely curious for more. Because even if Florian Faude offers no story about any old recipes from the cellar, historical family dramas or otherwise inflated fairy tales, we get plenty of information.
For the Faude Whisky is also called "Dark Diva", because it requires a lot of attention and detail in the production. It is a whisky made from 100% rye from the Bötzingen district. Those who know a little about rye whiskey will know that only a small fraction of American rye whiskeys are made from 100% rye. This rye is first milled and then put on as an unmalted mash. This finally ferments at 36 degrees until an alcohol content of 8.5% to 9.5% vol. is reached. After a maximum of 72 hours, it is then distilled – on a pot still to approx. 35% and on a column still to 86% vol. The heart is then separated manually and diluted with spring water to about 60%. Then follows a maturation of at least three years (otherwise it should not be called whisky at all) in new American white oak and finally remains unfiltered when it is bottled with a proud and very promising abv of 48% – not necessarily typical for a rye whisky.
This really answers a lot of the typical questions one has about a distillate – I like that.
But how does the Faude Whisky taste?
Tasting Notes:
Aroma: a very nice, intense nose with spicy and strong whole grain notes, toasted cereals come to mind, some roasted almond, woody, spicy tones that are straightforward and strong in character giving expression to the still young whisky. In the background I find associations of bread dough, roasted coffee, burnt sugar and an idea of caramel.
Taste: also on the palate I like this whisky despite its young age extremely well! Here, first of all, you have a neat, strong taste of rye that makes some well-known rye look a complete fool. The 48% vol. do a great job here without being sharp or distracting, which is also far from guaranteed for a young whisky. Again, I find notes of caramel, nutmeg, coffee, a certain herbal association that turns out surprisingly fresh, and plenty of oak, without turning out too bitter or overbearing. I like this rye whisky a lot!
Finish: spicy, strong with oak tones, medium to long.
And now the obligatory question, which cocktail can you mix with this one? Basically, of course, all those in which a rye whisky plays a central role! And "central" is not just said here, because you can grant the Faude Whisky quite a self-confident leading role in the cocktail. That's exactly what I did today. Basically, when I see a Rye, my gaze first reflexively wanders towards my stirring glass – and so it was also today. Somewhere between Manhattan, Negroni, herbal liqueurs and cold ice I feel most comfortable anyway, which is definitely noticeable in the cocktail.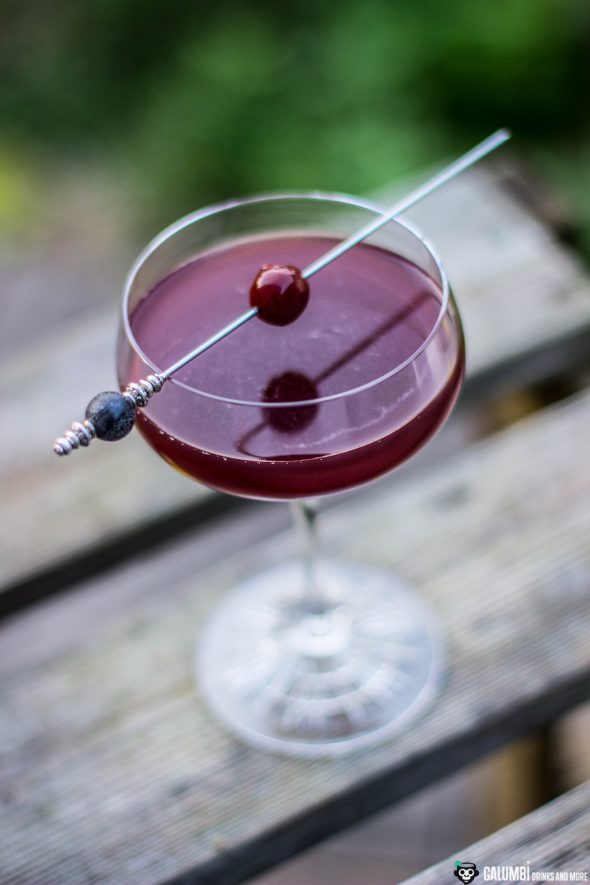 Recipe "Somewhere in between":
6 cl Faude Whisky Rye
2 cl Dubonnet Rouge
1 cl Amaro Vecchio de Capo
0,25 cl Mancino Chinato
0,25 cl Fernet Branca
Preparation: Stir all ingredients in a mixing glass on ice until cold and strain into a pre-chilled glass. Spray with the oil of a lemon zest, discard zest afterwards.
Glass: Coupette
Garnish: Cherry
Buying sources: at specialized retailers or online
*The fact that this product has been sent to me free of charge for editorial purposes does not – in any way – imply any influence on the content of this article or my rating. On the contrary, it is always an indispensable condition for me to be able to review without any external influence.