And today it's about a new "rum" product from the house of Ferrand, although it does not bare the name "Plantation". When I saw the bottle for the first time and held it in my hands, I was quite impressed by ist design: A heavy, thick glass bottle – I almost want to call it a decanter – encloses an amber liquid while being adorned by a really pretty turtle decoration reminiscent of exotic island beaches. And inside is… a Spiced Rum. Well, I admit, here I was not as enthusiastic anymore, since there are Spiced Rums on the market like sand by the sea and to what extent this one will deliver something groundbreaking or new, would have to be seen. (provided test product)*
In the past, I have rarely made a secret of my attitude to sweetened and / or altered rums, but also always emphasized that an open declaration as a spiced rum is actually what I would like to see for some products. This reproach can not be made to the Canerock – so his quite sonorous name – because it does not compete with false promises, but says from the outset clearly: "I am a Spiced Rum and  I have been aromatized with spices and natural flavors."
Hidden inside is a blend of different rums, the lion's share of which is up to three years old, while a small proportion is between five and ten years old. The rums were aged in former bourbon barrels and were produced from molasses. The rum lover will note with keen interest that these rums come exclusively from Jamaica and were distilled on column stills and pot stills at the renowned Clarendon and Long Pond distilleries. Finally, a small portion of the blend (about ten to fifteen percent) is finished again in Pedro Ximenez barrels. In addition, vanilla beans from Madagascar, coconut meat from the Caribbean and ginger are mentioned as spice additions. With 25g of sugar per liter, the sweetening is even relatively moderate, but in combination with 40% vol. we are of course in the expected taste range of sweet rums, which, as is well known, also include some that should not actually be called rum at all.
Tasting Notes:
Aroma: Initially I find exceedingly intense caramel tones, then some ginger jam, coconut, spices (cinnamon & nutmeg), roasted hazelnuts and milk chocolate. A nuance of baked apple with vanilla comes in with time.
Taste: The Spiced Rum seems very, very soft, vanilla and caramel tones dominate over and over, you notice the sweetening immediately, but unlike many Spiced Rums, it does not turn out quite so penetrating. However, after half a minute I still have to think of vanilla pudding, perhaps the taste here is also a little too one-dimensional, although – with a little time – there are quite clear coconut and light apple notes. On the palate, the Canerock can not quite keep what the nose promised. Maybe I'm getting a little unfair now, though, because as a spiced rum it does a decent job. I'm just not a person who would come up with the idea of enjoying a spiced rum neat outside of a tasting – and I can't quite hide that.
Finish: vanilla pudding and coconut shavings.
Well, what to do with this spiced rum? Sure, it can be used universally as a spiced rum behind the bar and certainly does its thing well there. I used it in a fresh sour with ginger jam and a bit of thai basil or holy basil, which works really well and makes me want summer, the beach, and somehow giant turtles. Et voila: Tortuga on the Rocks.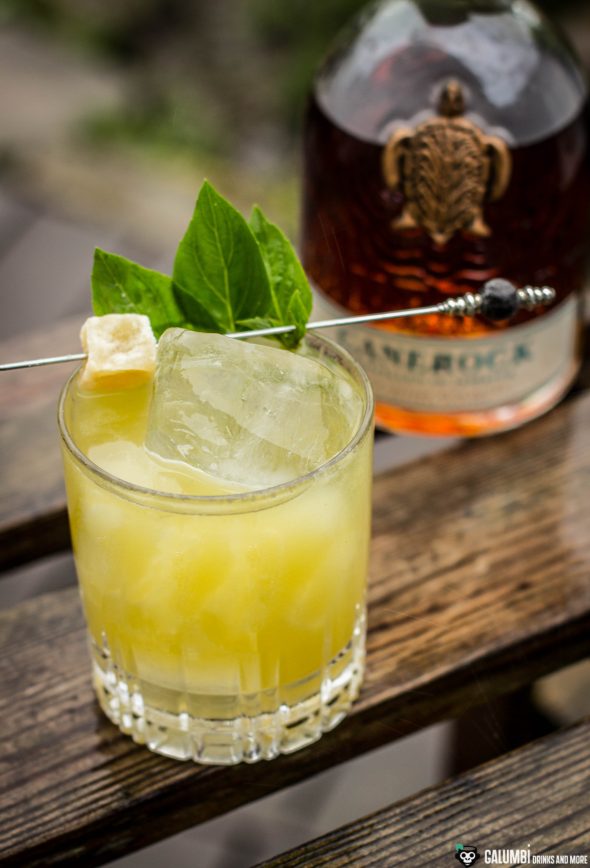 Recipe "Tortuga on the Rocks":
6 cl Canerock Spiced Rum
3 cl lime juice
1 heapied bar spoon ginger jam
a small handful of thai basil
Preparation: Put all ingredients in a shaker and press the basil a little with the pestle. Finally, shake vigorously on ice and double pour into the glass filled with fresh ice (just on the rocks).
Glass: tumbler
Garnish: a piece of candied ginger & some thai basil
Buying sources: At specialized retailers or online
*The fact that this product has been sent to me free of charge for editorial purposes does not – in any way – imply any influence on the content of this article or my rating. On the contrary, it is always an indispensable condition for me to be able to review without any external influence.