I have to start this article with a confession: I'm a big fan of mate lemonade – more precisely the classic, Club Mate, which is very famous here in Germany (most other manufacturers are simply too sweet for me). And of course I know about the evolution from the so called "hacker's soda" to "hipster's soda" and what other epithets there might be for this very polarizing drink. I am convinced that part of the polarization is simply caused by the slightly bitter, earthy taste, which one would not expect in a lemonade. However, for anyone who has tried real mate tea, the note in a bottle of Club Mate can at best be described as a nuance. Anyway, today I tried again to use mate flavor as a cocktail component.
And in doing so, I opted for a twist on the classic martini that I wanted to elevate to a different, much more herbal level in terms of flavor. And with the keyword herbs or gin cocktail it was no longer too far-fetched that I have used the very nice Urban Garden Gin from the Berlin Distillery, which I have recently reviewed here on the blog. Well and because Club Mate is certainly not a rarely seen guest in urban Berlin gardens, the flair of the cocktail in my head somehow added up to a round overall picture.
For my Urban Gardini (I can rarely resist silly twist names), I simply made a reduction of Club Mate (more on that below) and used it alongside Berlin Distillery Urban Garden Gin, classic Noilly Prat, a bar spoonful of Chartreuse Elixir Vegetal (as a greeting from the Great Charterhouse, where gardening was already practiced with passion before it was cool) and a few fresh garden herbs. And here I want to mention a special feature of this drink: In a way, it is only a blueprint, because depending on which herbs you stir in (yes, indeed you stir them instead of shaking), you bestow a subtly different character upon the Urban Gardini. The influences remain subtle due to the gentle use of the herbs, but are noticeable nonetheless. I used a small sprig of rosemary, some thyme, a leaf of sage and some woodruff. However, there are few limits to your imagination here.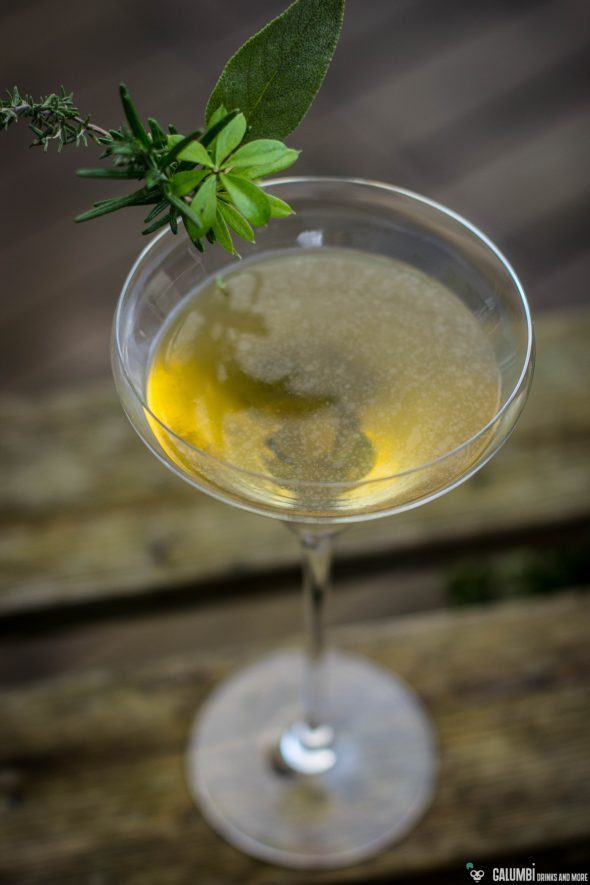 Recipe "Urban Gardini":
6 cl Berlin Distillery Urban Garden Gin
1.5 cl Noilly Prat
1 cl Club Mate reduction (see below)
1 bar spoon (0,25 cl) Chartreuse Elixir Vegetal
a small handful of fresh garden herbs (e.g. rosemary, thyme, woodruff and sage)
Club Mate Reduction: simply pour the content of one bottle of Club Mate into a pan, heat and simmer down to one-fifth. Then allow to cool and store in an airtight container until ready to use (might last for a few days in the fridge).
Preparation: Stir all ingredients including the herbs (!) in a mixing glass on ice until cold and double strain into the pre-cooled glass. Finally, sprinkle with the oil of a lemon zest.
Glass: Martini
Garnish: fresh garden herbs
Buying sources: at specialized retailers or online