Today it is once again about a Rhum Agricole. In the past I have already written about Rhums from J.M. here in the blog. In the course of these articles, I have reviewed the Rhum JM 50° and used it in a sour with white asparagus, which sometimes causes some irritation. Furthermore, the Shrubb J.M Liqueur d'Orange was also put to the test here. Today, however, it is about a matured representative of the series: The J.M Rhum XO. (provided test product)*
I won't go into too much detail about the background of the J.M company here today, but instead I'll be a bit shorter. Unlike the four-year VSOP in the J.M Rhum series, the J.M Rhum XO is six years old. It was aged in former bourbon barrels and finally bottled at a solid abv of 45% vol. So how does this matured sugar cane juice rum from Martinique taste like?
Tasting notes:
Aroma: Immediately there are typical notes of Rhum Agricole, which I know to please me directly. A slightly woody, greenish note of sugar cane, along with a bouquet of herbs such as thyme and some sage. In fact, I find cut apple wood and subtle apricot, in general a surprising fruitiness in the aroma that I haven't found so often in an Agricole. A little caramel and also subtle, earthy notes reminiscent of moist bark mulch complete an extremely interesting and appealing overall picture.
Taste: On the palate, the J.M Rhum XO convinces with a balanced and literally mature taste. The woody-greenish Agricole notes combine with some vanilla and caramel from the ex-Bourbon barrels to create a very appealing base note. Fine herbal and spicy notes of cinnamon and nutmeg are added. Here, too, associations of apples, apricots and gooseberries inevitably come to my mind, a fine bitterness from the oak wood and also some dark chocolate round everything off.
Finish: long lasting, woody with light notes of pepper, apple wood and caramel
In short: The J.M Rhum XO is a very good Rhum Agricole for enjoying it neat. But of course you can do other things with such a fine r(h)um. So, today I decided to go for a simple "Rhum Old Fashioned". You don't always have to reinvent the wheel, but sometimes you can achieve a stunning result with just minimal changes to classics. And that is exactly what I have done here: In this Rhum Old Fashioned I simply used syrup made from dark Muscovado sugar, which I had previously made myself in a 2:1 (sugar:water) ratio. Plus two Dashes of Dr. Sours #16 Papá Moi… just insanely good!
Recipe "Rhum Old Fashioned":
6 cl J.M Rhum XO
2 bar spoons dark muscovado syrup (see below)
2 Dashes Dr. Sours #16 Papá Moi
Dark Muscovado Syrup: Simply heat dark Muscovado sugar in a 2:1 ratio with water in a pan and let it simmer and reduce a little. Finally, let it cool and store it in an airtight container.
Preparation: The drink is built in the glass: Simply mix all ingredients in your glass and add a large, solid (and ideally clear) ice nugget. Stir again briefly, done.
Glass: Tumbler
Garnish: none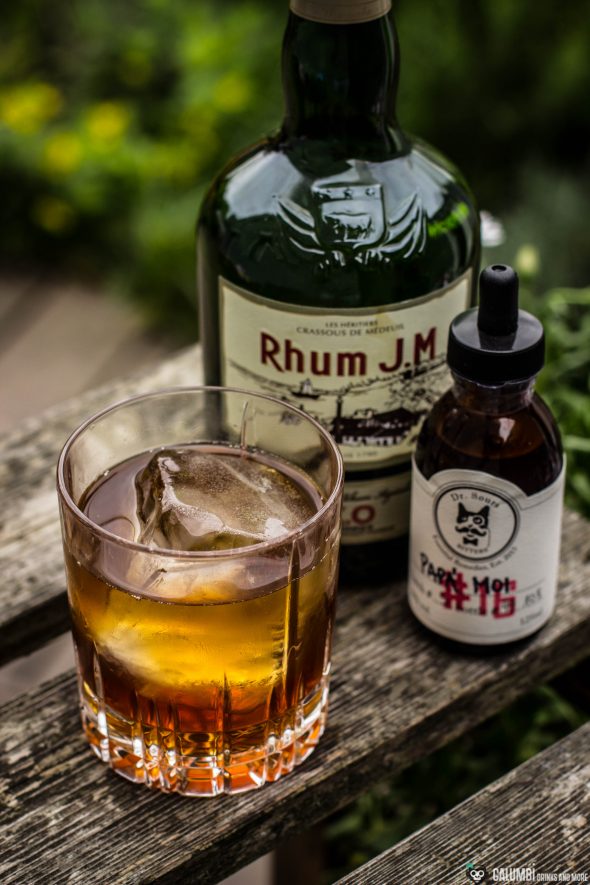 Buying sources: At specialized retailers or online
*The fact that this product (which contained only of leftovers) has been sent to me free of charge for editorial purposes does not – in any way – imply any influence on the content of this article or my rating. On the contrary, it is always an indispensable condition for me to be able to review without any external influence.