There are several types of spirits that have recently managed to emerge from the realm of the largely unknown and have become a household name. Batavia Arrack is certainly one of them. However, Batavia Arrack has not really become a mass phenomenon, but rather still is characterized by a niche existence. That's why I am all the more happy to be able to write about a new release from By the Dutch here today. Especially because the By the Dutch Batavia Arrack brings back very good memories. (provided test product)*
Sure, I don't want to cover the topic of arracks again at this point, since I already did that in the above linked article. Besides that I also once wrote about a palm juice Arrak here. However, today it is about a Batavia Arrack made of sugar cane molasses, to which a small amount of already fermented red rice has been added during the fermentation process. As a reminder, the Indonesian Batavia Arrack is named after the Dutch Batavia-Arak-Maatschapij, a historic company in the production of arrack; Batavia is the Latin name for the Netherlands, but was also the name of the Indonesian capital Jakarta when it was the headquarters of the Dutch East India Company.
So far, so good. The complete name of the bottle is "By the Dutch Batavia Arrack White Rum" and it is – surprise – a white Arrack. This colour is due to the short maturing process, which took place in teakwood containers for eight to twelve months. Before that, however, it was destilled twice on a Pot Still and then travelled to the Netherlands, where the final blend was composed in Amsterdam. With quite a proud abv of 48% it also offers a very interesting alcohol strength. Of course there are many ways to use this blend behind the bar, but primarily you will think of drinks otherwise made with white rum – and such an orientation is certainly intended. Nevertheless, of course also having it neat is an option (Personally I like to drink good white rums neat from time to time). So, let's get to the arrack!
Tasting Notes:
Aroma: A very interesting, unique aroma somewhere between white rum, Rhum Agricole Blanc and Clairin. Fermented fruits are clearly noticeable, especially pineapple, mango and also some durian (but without the penetrance often associated with it). Greenish sugar cane, sea salt and overripe banana develop over time, a slightly herbaceous hint (difficult to define) and some lemon peels are also present. A minimal hint of smoke.
Taste: Surprisingly spicy (and less fruity than expected), the By the Dutch Batavia Arrack White Rum introduces itself to the palate. But then they are unmistakably there: fruits, fruits, fruits: here too, it's mainly pineapple and mango with a slightly fermented note, but I can also find some peach and candied lime. The herbaceous touch is present again, but on the palate it turns out a bit clearer with sage, lemon verbena and weak chamomile, again minimal smoke. An exciting, quite unique distillate, best comparable to Haitian Clairin!
Finish: Surprisingly long and relatively dry on the palate with notes of allspice, sweet crystal salt and also some leather.
And here it is, my cocktail for the By the Dutch Batavia Arrack White Rum. I have put all my faith in a multi-layered and intensely aromatic potpourri of fruit and citrus tones, which the expressive Arrack can shoulder without any problems and yet still bring its special characteristics to bear in such a way that the drink would not work with a different spirit in the same way. The source of sweetness in this sour variation is divided into three parts: in addition to normal sugar syrup, oleo-saccharum and a bar spoon of rhubarb jam are used. Egg white ensures a frothy, creamy mouthfeel and the Elemakule Tiki Bitters round off the drink. And even if the old punch formula "One of Sour, Two of Sweet, Three of Strong, Four of Weak" doesn't really apply here, I took the liberty of naming the drink Batavia Lemon & Rhubarb Punch (and since there is more than a little hint of Tiki here, I boldly disregard an overly intense preoccupation with the definition of punches).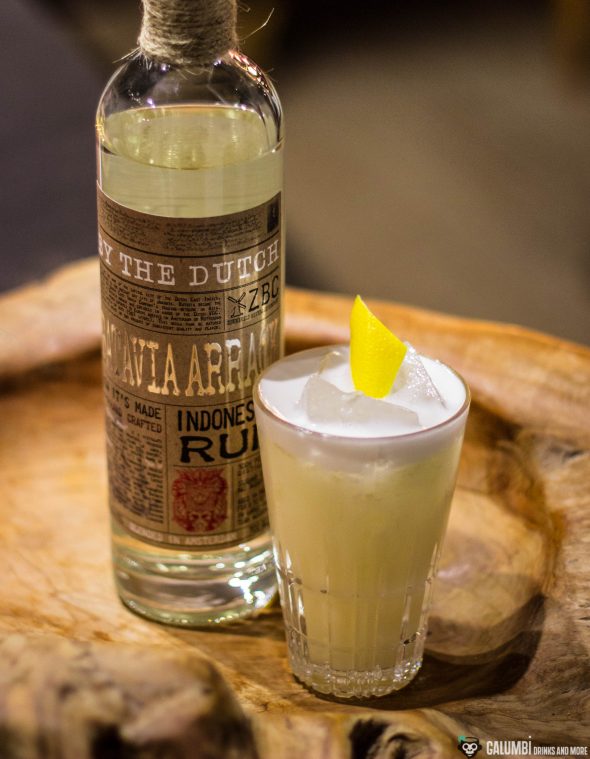 Recipe "Batavia Lemon & Rhubarb Punch":
6 cl By the Dutch Batavia Arrack White Rum
3 cl lemon juice
1 cl oleo-saccharum (see below)
1 cl sugar syrup
1 bar spoon of rhubarb jam
1 egg white
2 Dashes Bittermens Elemakule Tiki Bitters
Oleo Saccharum: Peel the skin off ten lemons (yes, 10 indeed, sorry) with a peeler all around and put them into a vacuum bag. Finally mix with four heaped tablespoons of sugar and vacuum the bag. Leave to rest for 12 to 24 hours. Then cut open and drain the oleo-saccharum (an oily syrup that has formed) and store in an airtight container. It lasts at least several weeks.
Preparation: first add all ingredients to your shaker and do a dry shake without ice (alternatively, froth up briefly with a milk frother), then shake vigorously with ice again and double-strain into a glass filled with fresh ice.
Glass: Tumbler or similar
Garnish: lemon zest
Buying sources: At specialized retailers or online
*The fact that this product has been sent to me free of charge for editorial purposes does not – in any way – imply any influence on the content of this article or my rating. On the contrary, it is always an indispensable condition for me to be able to review without any external influence.