Today I would like to take a closer look at two special bottles. Basically, the two have nothing to do with each other (apart from the fact that they are both sold by the French Cognac manufacturer Ferrand and in a certain way have been influenced by cognac). At first, I didn't intend to review both bottles together in a single article, but in the end that changed when the idea for today's cocktail came to me. (provided test products)*
However, the bottlings are both quite exciting on their own. On the one hand there is the Plantation Black Cask Barbados & Fiji – a blended rum without age indication, on the other hand the Pierre Ferrand Pineau des Charentes. I want to start with the latter at this point.
Pineau des Charentes is certainly a very special genus within the spectrum of alcoholic beverages and outside the French borders it is only little known. It is a mixture of Eau de Vie de Cognac and unfermented grape must, whereby both basic products must belong to the same vintage according to the French AOC (Appellation d'Origine Contrôlée). Eau de Vie de Cognac is nothing more than the white dog of cognac production, a distilled (white) brandy, which is not yet allowed to be called cognac due to a lack of maturation time in a barrel. This is now blended with unfermented grape must, whereby the usual ratio is approx. three parts of grape must and one part eau de vie de cognac. The Pineau des Charentes is then allowed to mature for some time in oak barrels. Pierre Ferrand Pineau des Charentes matures in oak barrels for at least 12 months, but for a total of 18 months, according to the manufacturer. Where the other six months are spent is not revealed, but I assume they will use conventional steel tanks. The particular grape variety from which this aperitif is made is also not officially indicated. It is finally bottled at 17% abv.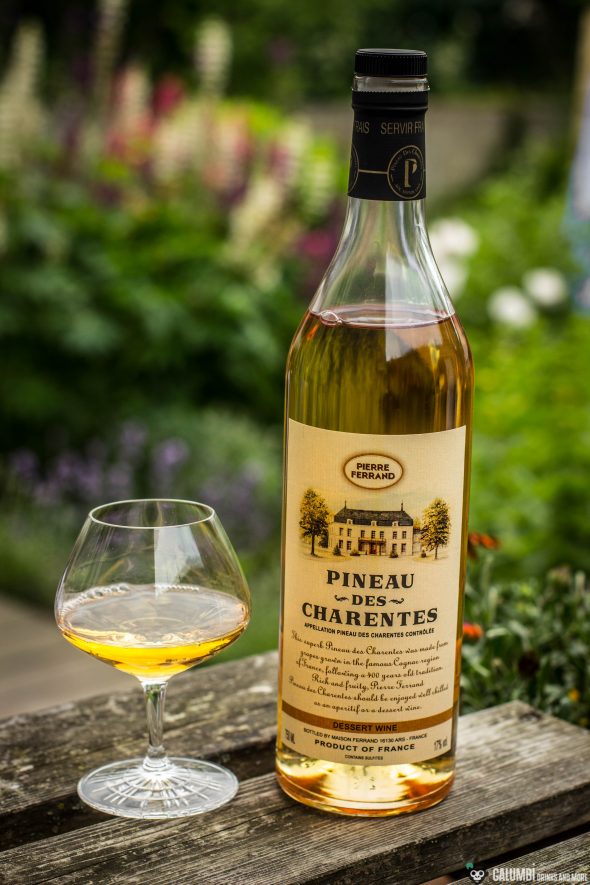 Tasting Notes:
Aroma: On the nose there is a spicy honey, fruity, light grapes with nuances of grape seeds, quinces and some vanilla; in addition very subtly some apple and light plums. Over time I also find some herbal nuances (especially lemon verbena). The aroma is a little bit reminiscent of a very dry mead.
Flavour: Pierre Ferrand Pineau des Charentes is very smooth and quaffable in the mouth. It has fruity, fresh notes of peach and plum, with a very appealing balance of lime honey sweetness and sour notes of grape must. This Pineau des Charentes is difficult to compare, I would locate it somewhere between white wine and dry mead. Compared to dessert wines it is not sweet enough.
Finish: light spices and a restrained grape must acid, in addition some honey.
I like the Pierre Ferrand Pineau des Charentes very much – and besides its classic use as an aperitif I can of course also imagine it as a cocktail ingredient. It can be used in a variety of ways, but I'd put it close to some sherries (I'll pick up on that later). However, it can also be used like vermouth or Madeira, as long as it is properly matched to the recipe.
As already announced, I have the Plantation Black Cask Barbados & Fiji in front of me as the second bottle. Like the Plantation Black Cask N°3 already presented here in the past, it is a blend of rum from two different countries of origin. And again Barbados is one of these countries. Rum from Fiji (again from the South Pacific Distillery) is now added, which makes me especially listen up, because the Plantation Vintage Edition Fiji 2009 really impressed me (and since then not only me). An exact age is once again not shown here, only that the rums have matured in their respective countries of origin for several years. Also the finishing time in cognac barrels, which is obligatory for Plantation, is not indicated. In any case, the rum is bottled at an uncomplicated ABV of 40%.
Tasting Notes:
Aroma: A seductive vanilla immediately combines with a fragrant fruit basket. Here I can mainly find peaches, bananas and nuances of an overripe mango. Spices also appear (nutmeg, a hint of cloves) like the oak notes of the barrel, the latter remaining rather subtle.
Taste: The Plantation Black Cask Barbados & Fiji turns out quite mellow and balanced, the alcohol is hardly present, although not completely hidden. Here, too, it transports vanilla with light fruits (again peaches and light grapes), but also associations of nuts. Over time the vanilla changes more towards toffee, but I also have to think of cotton candy.
Finish: relatively long with fermented fruit, rather dry.
As I've already said before, a cocktail in which both bottles would be used as an ingredient was not my intention at first, but it came up after all. The connecting element here is a sherry, or more precisely the Lustau Almacenista Manzanilla Pasada de Sanlúcar, which, with its beautiful notes of walnut and truffle, takes the Pineau des Charentes and the rum by the hand very well. I rounded the drink off with 2 dashes of Dr. Sours Bitters #7 Orange, which work really well here with their light smoke and very aromatic orange tones. To what extent another Manzanilla Sherry or other Orange Bitters would work here, I cannot say with absolute certainty, but of course, it is conceivable. By the way, the drink is called Corrino Cocktail – named after the family name of a dynasty in Frank Herbert's Dune cycles. There is no deeper meaning behind it, apart from the fact that I just read this book when I drank it.
Recipe "Corrino Cocktail":
4.5 cl Plantation Black Cask Barbados & Fiji
2.5 cl Pierre Ferrand Pineau des Charentes
1.5 cl Lustau Almacenista Manzanilla Pasada de Sanlúcar
2 Dashes Dr. Sours Bitters #7 Orange
Preparation: Stir all ingredients on ice in a mixing glass until cold. Then strain into a pre-cooled glass. Finally spray with the oil of a lemon zest.
Glass: Coupette
Garnish: lemon zest
Buying sources: At specialized retailers or online
*The fact that these products have been sent to me free of charge for editorial purposes does not – in any way – imply any influence on the content of this article or my rating. On the contrary, it is always an indispensable condition for me to be able to review without any external influence.