While planning today's article, I noticed a circumstance about which I was quite surprised. Because although I usually blog for almost four years at least once a week about cocktails, spirits and occasionally also about beers (including some very exotic and special categories), I have not even once written about a Cachaça. Why is that? I honestly do not know, because I have nothing against Cachaça at all and I do not give it a wide berth either. In short: It is time! (provided test product)*
Well, today I have the opportunity to write about a new product from Joerg Meyer's Tender Spirits-Range and to review it here. I'm talking about the Cachaça Yaguara Branca. However, before I go into this bottle in more detail, I would like to discuss some essential basics about Cachaça.
Cachaça is often referred to as Brazilian rum – and this is not a bad designation considering that Cachaça has a lot in common with rum. Nevertheless, Cachaça can rightly claim to be something of its own. Its historical roots go back to the early Portuguese settler's era in today's Brazil. It is confirmed by documents that alcohol has been produced there from sugar cane since 1532. In contrast to Rhum Agricole from the French overseas territories, which is always made from sugar cane juice, Cachaça may also be made from sugar cane syrup (melado), but it is mostly distilled from sugar cane juice. In terms of fermentation, however, the process can be backed with additional ingredients (e.g. by adding bran, flour, maize starch and sugar cane juice), which is not permitted with rum (at least if you want to export it to the EU or other large markets under that name).
According to Brazilian law, the distilled cachaça must be between 38% and 48% vol. – there are both, Column Still and Pot Still cachaças (and of course blends of both). Finally, maturing is also possible, and Cachaça is usually called a matured one after a period of one year. 22 different types of wood are permitted. Even if there is no legally binding regulation, you may find the term Cachaça artesanal as a subcategory in order to distinguish handcrafted Cachaça from industrially mass-produced one (Pitú belongs to the latter, as you might already suspect). Moreover, the addition of up to 6g of sugar (but also other additives) per litre is permitted.
Now back to the Cachaça Yaguara Branca. It is distilled in fifth generation from hand harvested Java sugar cane on copper pot stills. The sugar cane juice is fermented with the distillery's own yeast strains for 14 to 18 hours before only the heart of the distillate is used for the final cachaça. The Cachaça Branca then matures in steel tanks for at least 8 months before it is finally bottled. The very beautifully shaped bottle, designed by artist Brian Clarke, is quite conspicuous. The exact manufacturing process can also be tracked on the Yaguara website. But how exactly does such a cachaça taste?
Tasting Notes:
Aroma: A fine, almost vanilla-like note combines with sweet sugar cane. It is much milder and rounder than many rhum agricoles, but still shows some similarities to French rhum (and also to Haitian clairin): vegetal notes, but also very subtly boiled mirabelles and apricots, fresh kiwi and associations of a cream dessert. A very beautiful, multi-layered and sweetish aroma!
Taste: On the palate the expectation is confirmed: beautifully pronounced sugar cane tones with vanilla and a slightly greenish-woody, yet almost fruity flavor. There are hints of tropical fruits (especially mango), but also some mirabelle. The Cachaça Yaguara Branca remains very smooth and creamy. There is no trace of sharp alcohol. With a second sip, I can find vegetal tones of courgettes, but these remain very subtle. A very pleasant sugar cane distillate, no question about that.
Finish: surprisingly long with sweet vanilla and cream notes and rather bitter tones of greenish wood.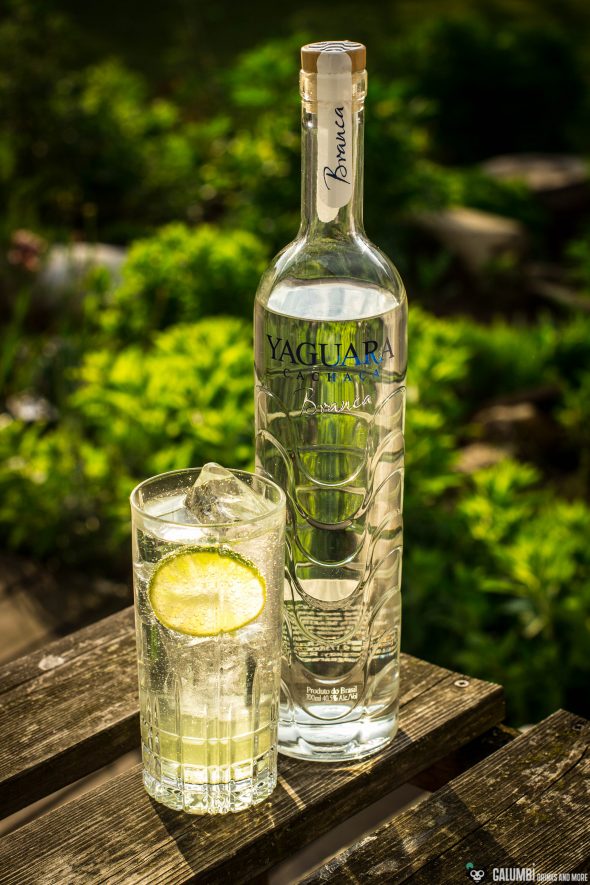 At this point, I usually think about having my own drink to go with the spirit or alternatively I am introducing a classic. Today I will not do either of these, because I've already written about the actual classic, which is the Caipirinha, in the past. That's why I will try the Caipirinha Highball by Gianfranco Spada. A clear highball variant of the classic, topped with soda, which follows a very unusual method of preparation. The drink is only stirred briefly without ice after adding the previously grated lime peel (here, of course, it must be a natural lime!). The released oils already aromatize the drink sufficiently, so that actually a wonderfully refreshing, not too sweet and perfectly balanced Caipirinha flair develops in the glass! I am really enthusiastic about this cocktail. Since the fruit juice is replaced by Supasawa, the drink is also visually stunning.
Recipe "Caipirinha Highball" (by Gianfranco Spada):
3 cl Cachaça Yaguara Branca
1.5 cl Supasawa
1 cl cane sugar syrup
grated peel of one third of a lime
Soda water (approx. 6 cl)
Preparation: First grate the lime peel into a mixing glass or shaker, then add the remaining ingredients except for the soda water and stir briefly with a bar spoon (without adding ice!). Finally double-strain into a glass filled with fresh ice and top off with soda water.
Glass: Highball
Garnish: lime wheel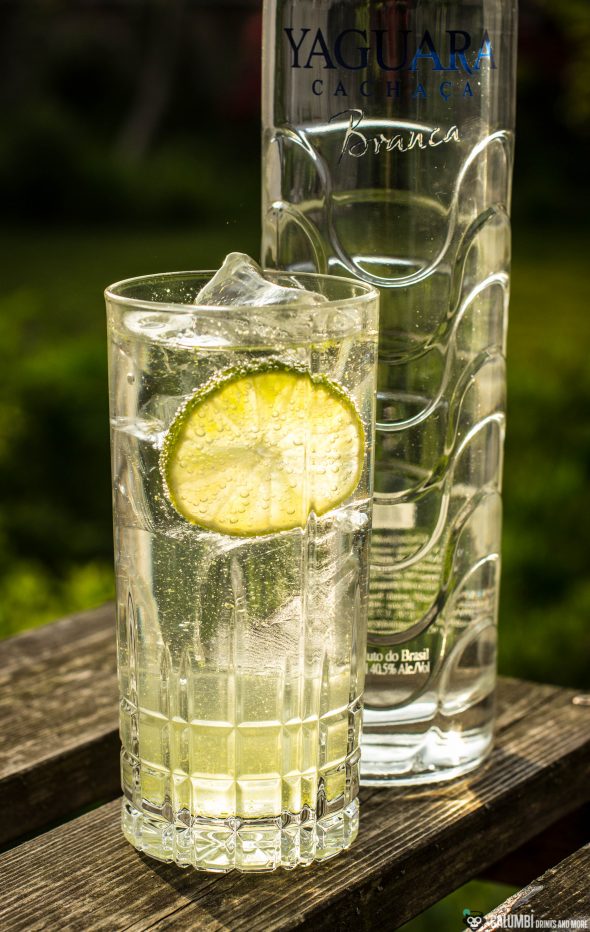 Buying sources: At specialized retailers or online
*The fact that this product has been sent to me free of charge for editorial purposes does not – in any way – imply any influence on the content of this article or my rating. On the contrary, it is always an indispensable condition for me to be able to review without any external influence.