If you are concerned with spirits and cocktails, you will automatically have to think about possible combinations of ingredients on a regular basis. And very often such thoughts are not only guided by taste and flavor, but more or less intentionally by a certain "flair" of some ingredients. There is undoubtedly the tendency to combine regionally close ingredients with each other or to honor a specific cultural sphere. Whether you'll have a classic South-American cocktail, Italian vermouth drinks or a Caribbean-Polynesian Tiki concoction – the principle is basically a ubiquitous one.
In some of my recent articles I have also published some Japanese-inspired cocktail recipes and in this context I did more or less rely on typical Japanese flavors. But with today's cocktail I wanted to do it a little differently. In terms of taste, it may be tend more towards the oriental sphere. Nevertheless, two genuinely Japanese ingredients are included, the Tokiwa Kome-Shōchū and the Choya Royal Honey. Therefore, in a broad sense, the term "Orient" could also be extended to the Far East, which was historically also the case, until finally a semantic shift happened and today we're thinking about the Middle East as well as the Persian, Arabic and Indian cultural sphere when using the word "Orient" (all of this from a Western perspective, of course).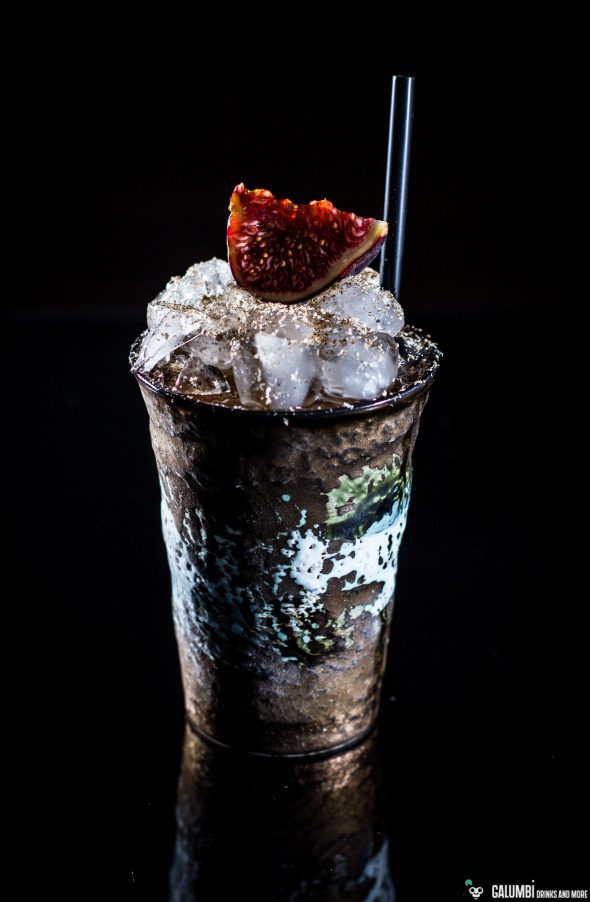 The Oriental Fashioned combines several flavors which offer a very beautiful, multi-layered yet unadulterated taste experience. Raw cocoa, sesame, a touch of coffee, spices, fig and a small hint of citrus. For this I once again opted for an infusion and infused the Tokiwa Kome-Shōchū with raw cocoa nibs and some roasted sesame seeds. A very aromatic and great infusion for such light and filigree spirits as the Tokiwa Kome. It is a very nice way to "strengthen its position" in a cocktail.
Recipe "Oriental Fashioned":
5.5 cl cocoa and sesame infused Tokiwa Kome-Shōchū (see below)
1.5 cl Choya Royal Honey Umeshu
3 bar spoons Kahlúa
2 bar spoons fig syrup (see below)
2 Dashes The Bitter Truth Lemon Bitters
1 Dash The Bitter Truth Xocolatl Mole Bitters
Cocoa and sesame infused Tokiwa Kome-Shōchū: add about 4 tablespoons of raw cocoa nibs and 2 tablespoons of roasted sesame seeds to 250 ml of Tokiwa Kome-Shōchū and let infuse for at least 48 hours. Then filter through a coffee filter or a filter cloth until no particles float in the Shōchū.
Fig syrup: Add 250 g of sugar and 200 ml of water to a pan and bring to the boil. Then let it simmer on a low heat for about 10 minutes. Divide four figs into eights and also add to the pan and continue simmering for about 5 minutes. Fill into an airtight container and let the syrup infuse for at least 24 hours. Last filter out the figs through a fine sieve (they will very likely have fallen apart).
Preparation: Stir all the ingredients on ice until cold and pour into a glass filled with cracked ice.
Glass: Tumbler / Double Old Fashioned (I chose a Japanese ceramic mug)
Garnish: fresh fig and freshly grated nutmeg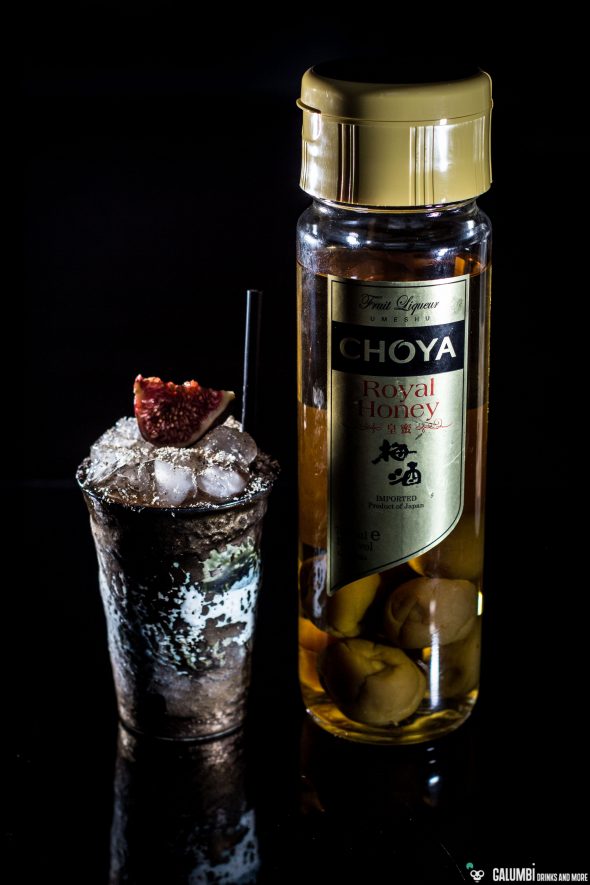 Buying sources: At specialized retailers or online. The Tokiwa Kome-Shōchū can be ordered here.