When hearing the term "Single Malt", hardly anyone seriously thinks of the United States of America. Especially not when it comes to peated, smoky Whisk(e)ys in the style of Islay Scotches. Yet today's Single Malt whiskey indeed is made in the United States. But what may sound somehow unorthodox is not that revolutionary at all. It may be unorthodox, though, if you're using such a spirit inside of a cocktail.
But one step at a time. McCarthy's Oregon Single Malt Whiskey is effectively a tribute to the Scottish whisky tradition, launched by the former mastermind of the Clear Creek Distillery in Portland, Oregon, Steve McCarthy. So it may be a little surprising that this whiskey is distilled since the year of 1990, quite a few years before the current wave of global whisk(e)y enthusiasm. Meanwhile, this single malt is by far not the only American Single Malt, but it is nonetheless a very special one.
The barley malt used has been dried over peat smoke and was specially imported from Scotland by the Clear Creek Distillery. There, the single malt is then allowed to mature for three years in ex-sherry casks and then again enjoys a final finish in American oak barrels from the State of Oregon. The result is a very voluminous and smoky whiskey with 42.5% vol.; one that you would blindly associate with the Hebridean island of Islay. The McCarthy's Oregon Whiskey definitely reminds me of a Lagavulin (which is basically my favorite whisky) or a sherry-cask matured Bowmore.
Unfortunately I only had a sample bottle of this whiskey when I was taking the photos for the article. The actual bottle looks like this: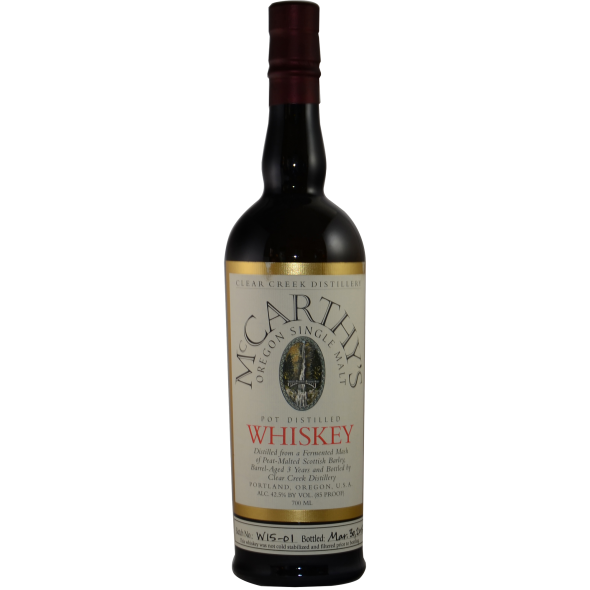 Here are my "Tasting Notes":
Aroma: distinct smokiness (smoked bacon), subtle notes of thyme with associations of salt; rum-preserved fruits and a subtle sweetness
Taste: Full-bodied, smoky and woody with an oily sweetness, dark chocolate and again some rum-preserved fruits.
Finish: long and aromatic
—–
However, as already announced, I have ventured to attempt creating a cocktail with this Single Malt, an ambition a lot of purists consider a sacrilege. But anyway, the result was very, very pleasing. Because this whiskey comes from the United States, I thought about a combination with typical American flavors and looked for some interesting inspiration. But since on the one hand we're dealing with a high quality Single Malt and on the other hand I did not want the McCarthy's to be overwhelmed by other ingredients, it was not that easy to find an appropriate recipe. In addition to that, there are only very few cocktails on the base of peated whiskey out there at all.
But some time ago I came across a cocktail with the sonorous name "Smoking Scotsman", which comes from the bar of a New York steak house named "American Cut". It combines smoky Scotch with maple bitters and the smoke of maple wood. This combination seemed to meet the requirements. But since it is was no Scot inside of my glass, I simply changed the name, so the Scotsman became a "Smoking Yankee". Basically it's a variant of the Old Fashioned Cocktail.
The Smoking Yankee is a very aromatic, rather puristic cocktail, which extends the smoky nature of the McCarthy's by adding new complex notes of smokiness while also enhancing the spirit with an interesting depth of subtle nutty flavors (I replaced the maple bitters by Fee Brothers Black Walnut Bitters). This turned out to be a damn cool thing! The preparation also has a great attention getting value, because to flavor the glass with the wood smoke, you can either use a kitchen torch to light a piece of maple wood and capture the smoke with your glass or use an auxiliary instrument (such as the Smoking Gun with some maple wood chips).
Recipe (in US-typical ounces):
2.5 oz McCarthy's Oregon Single Malt
Maple smoke (from maple wood)
3 Dashes Fee Brothers Black Walnut Bitters
Preparation: Flavour the drinking glass with the wood smoke (to do so, gather some smoke underneath the reversed glass and let it escape after a short time), then fill with ice cubes. Stir McCarthy's Oregon Single Malt with the Walnut bitters over ice until cold and strain into your smoke-flavoured glass.
Glass: Tumbler
Garnish: none
Buying sources: Fee Brothers Black Walnut Bitters can be found in specialized stores. The McCarthy's Oregon Single Malt is not always available everywhere, but it can be found for about 60-70 euros in special liqueur stores. If you are a spirits dealer yourself, I can recommend you to look for the McCarthy's Oregon Single Malt here (only in German language).