After having it made through my second Covid19 infection which lead to a while of alcoholic abstinence, I am particularly looking forward to today's article, because there are some very promising things coming together, on which I am accordingly also incredibly excited. It's about tequila (which I appreciate very much), about two Reposados exactly (which is basically my favorite category), one of them even bottled with a proud abv of 53% (a thing you don't meet so often with tequila) and on top of that both have been matured in very exciting and for me in this context also new types of casks. (provided test products)*
The fact that we in Germany now have the opportunity to taste such special tequilas is thanks to Tequila-Kontor, which specializes in Mexican spirits, and the fifteenlions GmbH behind it, which imports the tequila. But now to the actual product:
The tequila bottlings go by the names Storywood Tequila Reposado Sherry (with an aging statement of seven months) and Storywood Tequila Reposado Speyside (also with an age statement of seven months). You can already hear from the name that here not the usual ex-bourbon casks were used, but ex-Oloroso sherry casks from European oak or casks in which previously matured Speyside single malt was resting (which exactly, is not revealed). In general, you will not find any unaged Blanco Tequilas under the name Storywood, which is also completely new to me that way. The Storywood Tequila was distilled by the La Cofradia distillery (NOM 1137). From there come numerous tequila brands (here you can find an overview), among which Casa Noble is certainly one of the most famous.
The basis of Storywood tequilas are ten-year-old Weber agaves, which are allowed to ferment with wild yeasts for seven to twelve days after the three-day roasting and subsequent extraction. Then double distillation takes place on copper pot stills.
There are several exciting bottlings in the series, including a Speyside Añejo variant, a Double Oak Añejo and a higher-proof Speyside Reposado with 53% vol.
Today, however, it is just about the already mentioned bottlings: the Storywood Tequila Reposado Sherry with 53% vol. and the Storywood Tequila Reposado Speyside with classic 40% vol. which I will of course subsequently also subject to a cocktail test.
Let's start with the Storywood Tequila Reposado Speyside and see how the interaction of Scotch cask and tequila works.
Tasting Notes "Storywood Tequila Reposado Speyside (40% vol.):
Aroma: Oh yes, this is directly very interesting and appealing. It's clearly a reposado tequila, which you'll notice in the typical earthy agave tones that still dominate against the quite present but not yet overly strong barrel influence. Mineral salt, some lime, a freshly opened can of fleur de sel, fine herbs, but then just a fine vanilla note (almost custard) with floral-fruity hints familiar from Speyside whiskys. I find a bit of peach, maybe plum, which melds into a very exciting overall picture. This tequila does not scent like Speyside whisky at all, so you really shouldn't expect that despite the name. Rather, the result is a very nice tequila with a special aroma.
Taste: on the palate, an extremely exciting potpourri of fruity notes of bright fruits (especially peach) with vanilla, again mineral salt and earthy agave, plus increasingly clear notes of tangerine peel, which surprised but also totally thrilled me. I've never drunk a tequila like this before! It's not overly complex, but very drinkable and pleasing. A nice, not too complicated but still novel tequila, I really like it!
Finish: medium long, still tangerine peel and agave, a tiny bit of wood.
Tasting Notes "Storywood Tequila Reposado Sherry (53% vol.):
Aroma: Clearly these two tequilas are related. Agave tones, the mineral note with lime impact and the associations of salt turn out very similar. However, there are also some differences due to barrel aging and alcohol content: the flavors are presented more powerful and in a more dominant way, and the vanilla is very much in the background, replaced by vinous and fruity notes. Also, the aroma picture is a little bit more dominated by wood tones.
Taste: Oh yes, the 53% vol. naturally make themselves felt – and positively all around! What a bomb on the palate with wonderful interplay of fruit, oak, subtle bitterness, earthy agave, mineral salt and fruit. I find the tangerines here as well, but they go hand in hand with darker tones like cherry, plum or even grape. Vanilla is also present, but rather subtle in the background. The alcohol is of course noticeable, but just full of flavor and expression.
Finish: long lasting with oak, herbaceous agave and fruit.
For now, I opted for a Bitter Juan as my drink. I will also publish a separate drink for the Storywood Tequila Reposado Sherry in the next few days. If the name of the cocktail doesn't mean anything to you, don't be surprised, because it is simply a variation. It is made after the Bitter Jean from Soho House in London, which actually combines a Speyside single malt, Islay single malt, vermouth, crème de cassis and bitters. In the Bitter Juan, however, Storywood Tequila Reposado Speyside and a smoky mezcal finally find each other, taking on the roles of Speyside and Islay malt. In addition, I opted for Creme de Mure instead of Creme de Cassis, because I find blackberry notes simply nicer in combination with tequila. The relatively high proportion of bitters, however, remains the same and makes the Bitter Juan just such.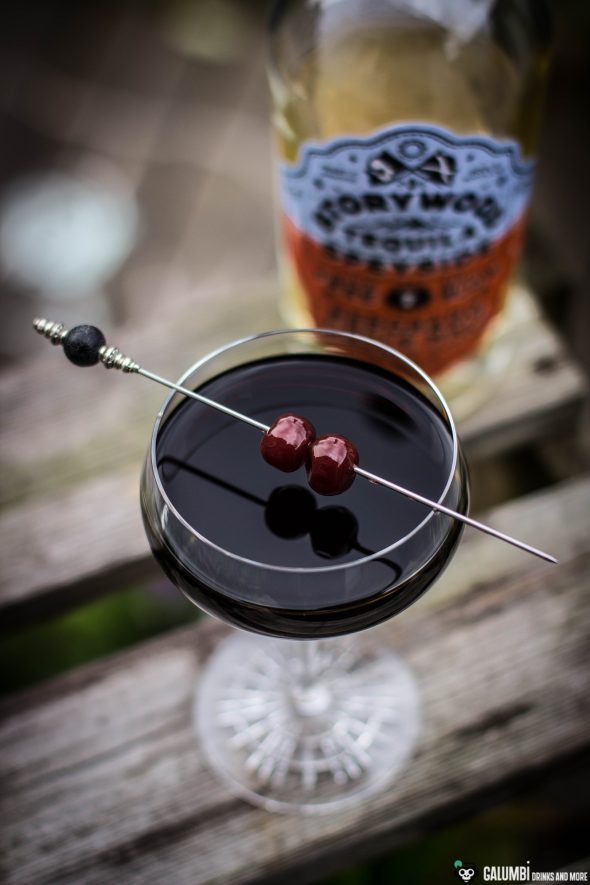 Recipe "Bitter Juan":
5.5 cl Storywood Tequila Reposado Speyside (40% vol.)
1.5 cl Oaxaca Mezcal
1.5 cl Crème de Mure
2.5 cl red vermouth
8 dashes Angostura Bitters
Preparation: Stir all ingredients in a mixing glass on ice until cold and strain into a pre-chilled glass.
Glass: Coupette
Garnish: two griottines cherries
Buying sources: At specialized retailers or online at Tequila Kontor (German distributor).
*The fact that these products have been sent to me free of charge for editorial purposes does not – in any way – imply any influence on the content of this article or my rating. On the contrary, it is always an indispensable condition for me to be able to review without any external influence.