What do Godzilla and the yuzu fruit have in common? Of course, both have become famous as Japanese cultural exports. And both can claim a massive sphere of influence: While Godzilla revolutionized monster movies and flattened entire cities, the juice of the yuzu fruit has permanently changed the cocktail world and strikes impressively at the taste receptors. But why am I talking such supposed nonsense here? Exactly, because today we are talking about Yuzilla! (provided test product)*.
But let's try not to overstretch things too much and clarify a bit what exactly today's topic actually covers. Yuzilla, the self-proclaimed King of Citrus Gins, is (after I mentioned this epithet you would never guess) a gin. So far, so good. Behind this gin is the Hamburg-based spirits distributor and retailer Tastillery, which is also known in the German booze market for its very creative and humorous videos featuring Waldemar and Andreas, among others. If these names mean nothing to you at this point (and if you are able to understand German), you should take a look at Youtube. There you will find many very entertaining and funny videos, in which you can learn a lot about the world of spirits without running the risk of taking the matter or yourself too seriously.
Yuzilla is obviously playing the citrus card. On its own website, it sounds like this, among other things: "A gin that smells and tastes like you're flying right into the eruption of a lemon volcano – it doesn't get fresher than that." So if you're looking for a dry juniper bomb, you can probably save the rest of the article at this point. However, those who love and are looking for just such fresh, tangy gins suitable for combination with various (especially then rather dry) tonics, should be absolutely right here. Although the Yuzilla of course also counts juniper among its botanicals (otherwise it should not call itself a gin), the focus is elsewhere: organic yuzu from Japan, tangerines, grapefruits, limes and lemongrass promise clear accents, plus coriander and two other, unnamed botanicals (there are nine in total). The gin is bottled at a relatively mild 40% – for my taste, it could have been a little more, but the gin is certainly aimed at the broad market. With about 35 euros for 0.7 liters, the price is also not too high, in addition, the bottle is very strikingly designed (including "claw marks" of "Yuzilla").
So how does that liquid monster that brushed a juniper bush on its way to the skyline taste like?
Tasting Notes:
Aroma: Is the Yuzilla the announced citrus bomb? Yes, no question about it. But I have to praise right up front that this is not at all at the expense of the spicy-herbal side – and the juniper is not entirely slain here either, which I had initially feared. Rather, I find the juniper surprisingly clear from the beginning and I do not have to use my imagination in order to find it, as I have already experienced with some New Western Dry Gins. But now to the actual program: parallel to the herbaceous juniper described, there is of course the full load of citrus aromatics in the glass. It takes a little time to isolate individual components here from the initially diffuse fresh-fruity blast. The characteristic spicy-fresh note of yuzu is there, lime and grapefruit peels add appealing depth, and a hint of exoticism from lemongrass is also present. But what I particularly like is the subtle tangerine note that makes itself felt and makes the Yuzilla really exciting.
Taste: on the palate, the citrus note then dominates much more than on the nose. Again, the nice potpourri of citrus peel and freshness forms quite authentically, a foundation of yuzu tones carries the Yuzilla over the taste receptors for quite a while. As time goes on, tangerines reappear, which I really like here. Juniper, coriander and other diffuse herbal tones tend to hold back, but still offer a nice depth. I really like the Yuzilla!
Finish: medium to long with various citrus peels and light herbal impact.
At this point, I am once again faced with the question of how such a "focal point" gin can be used in a drink. As I've explained many times before in similar contexts, I'm not a fan of combining a gin or a specifically flavored spirit with just that ingredient in a drink. Why? Because, unfortunately, this usually overpowers the specificity of the spirit to some extent. If, for example, I have a blackberry-heavy gin and combine it in a cocktail with blackberries, not so much of the actual gin character will remain, the gin becomes arbitrary, which is not what you really want. Accordingly, I clearly decided against a sour, because I did not want to drown the Yuzilla in lemon juice. Sure, it will also cut a good figure in a sour, but perhaps not remain too unique in it, as it would have deserved. So today, the shaker stays in the cupboard and the mixing glass comes into play – and in a very classic way with just a few ingredients.
My drink of choice is the Poet's Dream, a classic drink from Esquire's Handbook for Hosts from 1949, consisting of just gin, Benedictine and dry vermouth (originally in equal parts). Simple, elegant, and with room for a gin to show itself – and to top it off, quite to my taste. And who knows, maybe some poet will dream of Japanese monsters on yuzu steroids one day….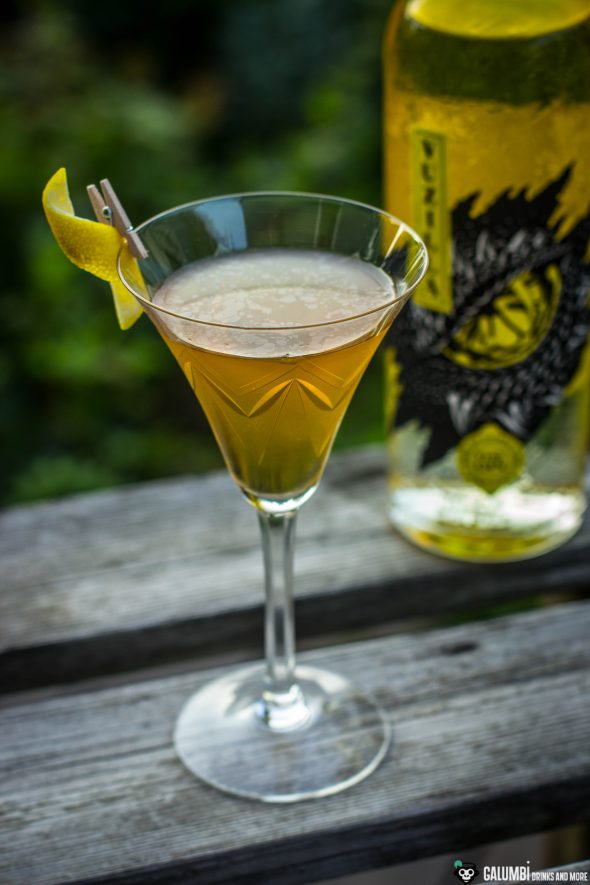 Recipe "Poet's Dream":
2.5 cl Yuzilla Gin
1.5 cl D.O.M. Benedictine
2.5 cl dry vermouth
Preparation: Stir all ingredients in a mixing glass on ice until cold and strain into the pre-chilled glass. Spraywith the oil of a lemon zest.
Glass: Nick & Nora, Goblet or Martini
Garnish: Lemon zest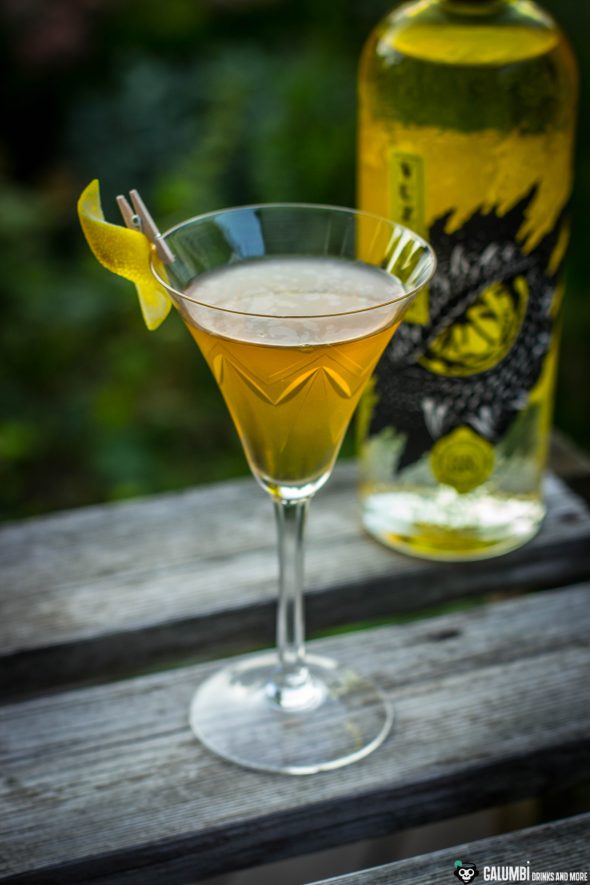 Buying sources: At specialized retailers or online
*The fact that these products have been sent to me free of charge for editorial purposes does not – in any way – imply any influence on the content of this article or my rating. On the contrary, it is always an indispensable condition for me to be able to review without any external influence.