Today I have a special bottle in focus, which only recently saw the light of day. I was very excited in advance, because I could not really imagine in which direction it would go in terms of taste. My expectations oscillated somewhere between delicious and terrible, which is simply because infused rum doesn't always have to lead to a delightful result – and especially in combination with bananas, spirits quite often drift off into unpleasant realms. Today we are talking about the La Hechicera Serie Experimental No.2. (provided test product)*
For all those who are not familiar with the name La Hechicera, it should first be briefly explained that this is a Colombian rum forge that has been run by the Riasco family for two decades by now. However, if you look for information about the name or the location of the distillery, you will hardly find anything. Instead, there is talk of a bodega in the heart of Barranquilla, between the Magdalena River and the Caribbean Ocean, where their rum is matured and blended. The background here is simply that the rum is not distilled locally by the family, but basically different distillates from different countries and distilleries of South America and the Caribbean are used, which are then blended and allowed to mature. So if you expect a rum that is completely made in Colombia when reading the term "Colombian rum", you are unfortunately wrong. Also, not everyone may rejoice because of the solera process that leads to a rum "between 12 and 21 years" of age. And yes, if there would have been a lot of sugar on top added to this rum, I would probably have jumped off at this point, but this is explicitly not the case here (which you can taste directly, but see below).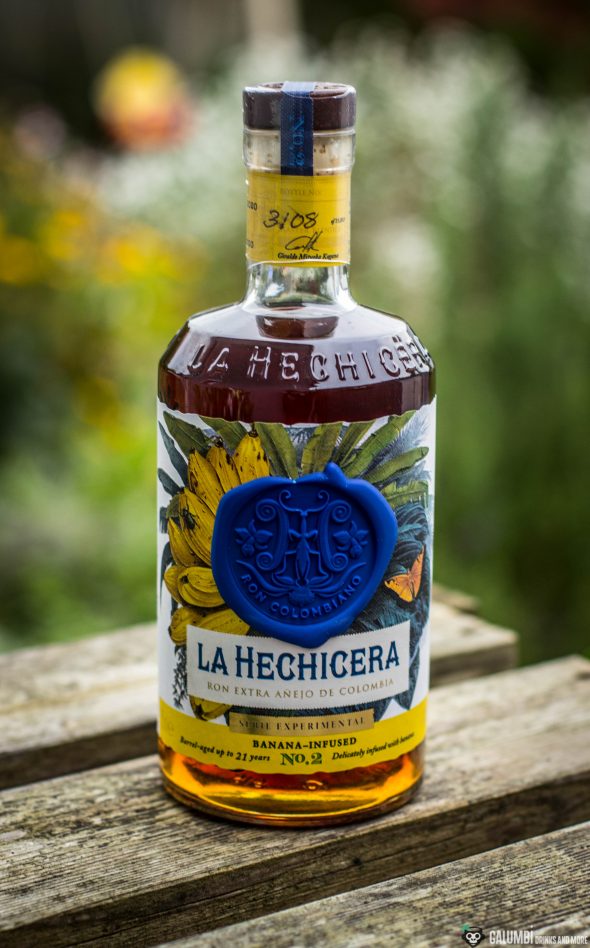 For the La Hechicera Serie Experimental No.2 the manufacturers have come up with something special, namely the infusion with bananas mentioned at the beginning. To be exact, they used dried organic banana chips (not the skin of the banana). However, the duration of the infusion is not revealed. Personally, I am actually very sensitive to bananas. Artificial tasting banana liqueurs are a real horror to me, but when authentic banana flavors succeed in a spirit drink, I usually love them. So how will the La Hechicera Serie Experimental No.2, bottled with an ABV of 41% vol. and released in an unspecified "Limited Edition", perform?
Tasting Notes
Aroma: I must confess that I have become very sceptical about South American rum. All too often I have been disappointed here, have noticed and at least guessed a lot of sugar or other additives. None of this is the case here! On the contrary, I find a very fine and nicely balanced aroma. The molasses rum exudes fine notes of vanilla, coconut and roasted nuts. Associations of sweetness are also present, but most of all, from the very beginning, a really beautiful, authentic and by no means exuberant ripe banana appears. This is really the kind of banana I love in spirits. Behind the banana, spices and some caramel resonate.
Taste: This rum also convinces me on the palate! The banana is authentic, but also leaves enough room for the rum. The vanilla is joined here again by notes of nuts, a little dark plum, oak notes with a fine bitterness and nuances of spices, the sweetness associations of the rum always appear natural. Some caramel and a hint of marzipan are also present.
Finish: medium long, ripe banana and oak.
With such a spirit you have to be a bit careful when it comes to cocktails. Unfortunately, I very often observe the impulse, which seems understandable at first glance, to combine or "emphasize" a spirit based on a certain ingredient with more of that ingredient. For example, I have often seen that a particularly lime-tinged gin is often combined with lime juice, a rum infused with pineapple is mixed with pineapple juice, or a whiskey infused with coffee is stirred with coffee liqueur. In rare cases such a thing may bring added value, but generally it makes the base spirit arbitrary, because the lime will leave little or no room for the lime notes of the gin, the pineapple juice swallows the pineapple infusion, etc. In this case, regular gin, regular rum or regular whiskey would have done the trick.
In the case of the La Hechicera Serie Experimental No.2, I would be careful not to add a banana liqueur or something similar. No, the rum should speak for itself! Nevertheless, such an infusion is of course a filigree thing. In a Tiki Punch, a Sour or the like, it also falls behind so quickly. So I decided on an exotic-aromatic Old Fashioned, which comes with a little maple syrup, black walnut bitters and a subtle spray of mango eau-de-vie from the vaporizer (I've used the Vallendar brand). Simple, yet with finesse. And the La Hechicera Serie Experimental No.2 really shines in my drink called Plátano de la Bodega (The Banana from the Bodega).
Recipe "Plátano de la Bodega":
6 cl La Hechicera Serie Experimental No.2
2 bar spoons maple syrup
2 Dashes Fee Brothers Black Walnut Bitters
Vallendar Mango eau-de-vie (from the vaporizer)
Preparation: Stir all ingredients except the mango spirit in a glass briefly on solid ice. Finally, add one or two sprays of mango eau-de-vie to the top of the drink.
Glass: Tumbler
Garnish: dried banana slice
Buying sources: At specialized retailers or online