The concept of terroir is a much-vaunted one when it comes to marketing and quality promises concerning spirits in general (not to mention wine). Moreover, in recent years, also consumers have increasingly valued it. In particular, fermentation as a process that is significant for the taste of rum and whisky has become a popular subject. But not only there, because producers of Mexican agave distillates are also proclaiming the influence of the terroir on their product. And – how could it be otherwise? – this is of course also the case with the two bottles in focus here today. (provided test products)*
Tequila Ocho comes from the same forge as, for example, the Tapatio Tequila. The producing family Camarena pronounces the peculiarity that it is the first Single Estate Tequila (a tequila for which the agaves were harvested on the same field) on the market, which comes from different agave fields (estates). This may sound a bit confusing at first, but in principle, it is quite easy to understand: the Camarena family cultivates different agave fields and uses only one single field for an Ocho Tequila, which is also indicated on the bottle (next to the year it was made). According to the producer, different soil conditions and different altitudes have a decisive effect on the character of the tequila. And of course, one field cannot be harvested endlessly, because the agaves need between seven and ten years of growth until they are finally ripe.
After the piñas (agave hearts) are finally cooked in brick ovens, the pressed juice mixed with water and minerals is allowed to ferment. This is done for four to five days in large vats made of pine wood. Then a double distillation takes place, first on a large steel pot still, then on a smaller copper pot still.
While the Blanco variant is then already finding its way into the bottle, the Reposado is moved once again for eight weeks and eight days into former whiskey casks made of American oak. The bottling strength for both qualities is 40% vol.
Both tequilas I have in front of me, a Blanco and a Reposado, were made from agaves from the Las Presas ranch in Jesus Maria, which already belonged to Carlos Camarena's great-grandfather. They also both bear the 2018 vintage designation.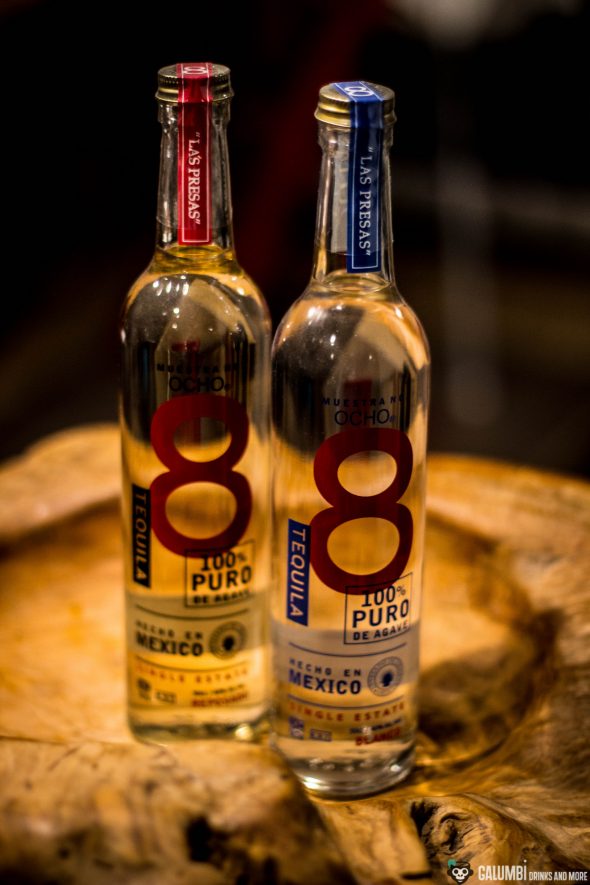 Tasting Notes "Tequila Ocho Blanco Las Presas 2018":
Aroma: a beautiful, aromatic tequila nose with spicy agave tones, mineral notes of chalk and rock salt, but also herbaceous hints. Here I mainly find rosemary, some lemon verbena, but also white pepper, some pineapple and a hint of tangerine.
Taste: a thoroughly spicy and expressive Blanco lies here in my glass. Here, fruity and mineral tones are my first impression: tangerines, pineapple, also some grape, plus rock salt. The alcohol is quite noticeable on the tongue, but carries the taste notes very skilfully. Rosemary and white pepper are once again part of it.
Finish: spicy agave notes, mineral salt and again a hint of white pepper
Tasting notes "Tequila Ocho Reposado Las Presas 2018":
Aroma: Yes, there is a different, slightly softer, but still very strong character in the glass. Very spicy notes with nutty hints (coconut, hazelnuts), again tangerines, some ripe mango, in addition a fine vanilla and a little moss.
Taste: on the palate I first find a multi-layered agave spice, earthy and mineral tones with rock salt, leather, then again some tangerine, grilled mango, vanilla, candied lemon zests and a hint of white chocolate.
Finish: fruity, spicy, with cocoa and white pepper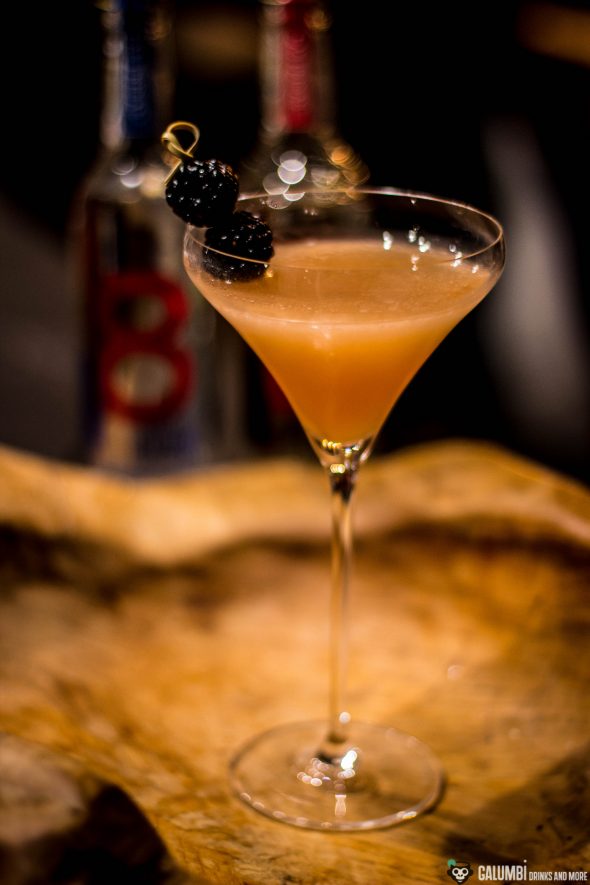 Yes, these are already very exciting and beautiful agave distillates, no question! Especially the recurring tangerine has inspired me to work a little with the juice of tangerines. Since Christmas is also just around the corner, this has given me additional encouragement. I use both tequilas in my drink, which puts the agave character of the drink on a broader level and really works very well. Add to this fresh lime, tangerine, agave syrup, the exciting, fiery and spicy Dr. Sours Bitters #9 3 Chiles and a little crème de mûre. The latter actually gives the drink a deep, dark sweetness without being too sweet or overpowering: the blackberry is nowhere to be recognized by the color of the drink, but you can find it in the taste (hence the name of the drink). To round off the flavour, I added three sprays of smoky mezcal from a spray bottle on the surface of the drink! The cocktail is called: Alma Oscura, the dark soul.
Recipe "Alma Oscura":
3.5 cl Tequila Ocho Reposado Las Presas 2018
2.5 cl Tequila Ocho Blanco Las Presas 2018
0.75 cl agave syrup
2 cl lime juice
1 cl tangerine juice
0.5 cl Crème de Mûre
2 Dashes Dr. Sours Bitters #9 3 Chiles
3 sprays of Mezcal from an atomizer
Preparation: Add all ingredients except Mezcal to a shaker and shake vigorously on ice. Finally strain into a pre-cooled glass and spray with Mezcal.
Glass: Coupette or Martini
Garnish: two blackberries
Buying sources: At specialized retailers or online
*The fact that these products have been sent to me free of charge for editorial purposes does not – in any way – imply any influence on the content of this article or my rating. On the contrary, it is always an indispensable condition for me to be able to review without any external influence.