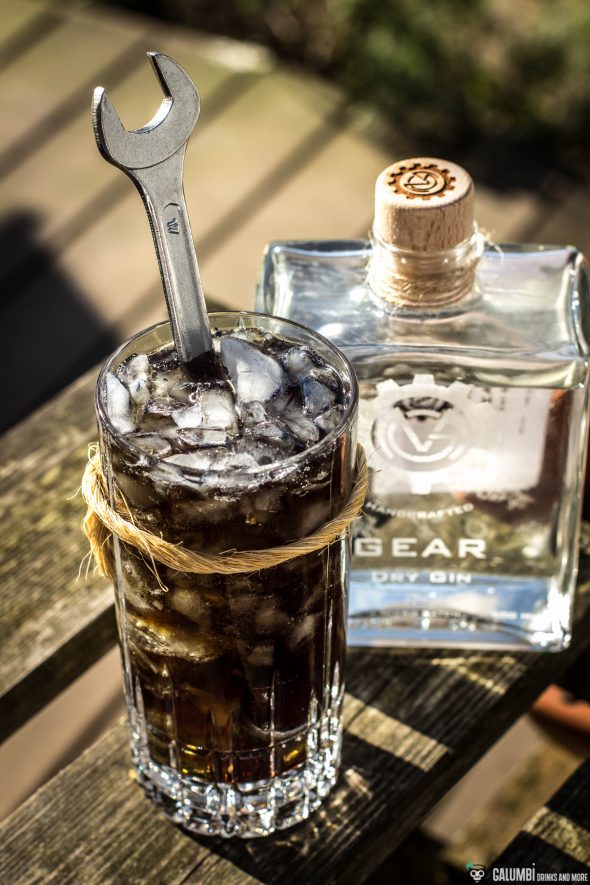 Even though I am pursuing the goal of providing a comprehensive overview of current, interesting bottlings with corresponding reviews and suitable suggestions for drinks, it is of course not possible for a blogger to do justice to the entire spectrum of the spirits market, not to mention the number of newly launched products. Moreover, when we talk about gin, this is truer than ever. (provided test product)*
The bottle I am going to review today – you already guessed it – is once again a gin. It comes from the German Odenwald region and is called Gear Gin. It is distilled in the Edelobstbrennerei Thomas Helferich, but is not a product designed by Thomas Helferich himself. Rather, here we are once again dealing with a story that has become very typical in the gin segment: externals approach a distillery with a concept of their own gin in mind and commission the distillers to produce their gin. The head behind the Gear Gin is Marcel Gassert, who also stands behind the Boilerrum project (which has been criticized a lot).
Name and logo of the rum are meant to symbolize that in a good gin everything needs to engage with each other, just like with small gears. Well… I've definitely heard better stories.
On the other hand, the bottle design is inspired by a perfume bottle, which I do like.
The gin is distilled three times according to the Slow Separated Distillation (SSD) method in a copper still. Here, the temperature is raised only very slowly, whereby the distiller hopes to gain as many aromas as possible from the botanicals. Apropos "botanicals": besides juniper also lavender, orange, lemon, pomelo, elderflower, cinnamon, raspberry leaf, dragon fruit, white mint, cayenne pepper and two secret ingredients were used. The final ABV is 43%.
Tasting Notes:
Aroma: In fact, this gin is unusual from the start and emphasises its New Western Dry character. Fruit and berry notes stand out, I can mainly find lemon and elderberry, despite the botanical list also associations of cherries, but also raspberries and, well, chewing gum. I don't know if it's the dragon fruit that makes me think of chewing gum, but the impression is there. Over time, some orange comes out, the juniper is present, but remains very subtle.
Taste: The Gear Gin basically confirms these impressions on the palate. Elderberry, citrus and berry tones, again some chewing gum and behind it slightly herbal tones. However, the emphasis here is clearly on the fruit component, juniper notes are only subtle. Once more a gin – as with many New Western Dry Gins – which I probably wouldn't have recognized as gin ten years ago.
Finish: fruity, medium long to short.
Well, today I can do without a cocktail recipe. Not because you couldn't use the Gear Gin in a drink, no, basically I wanted to mix a more unusual Gin & Tonic. I was inspired by the flair of the gearwheel and so I tried a G&T with an industrial flair: the Weisswange Black Tonic Water is coloured with activated carbon and gives the Gin & Tonic a very unusual colour. It is not only a visual decision, but also a tasteful one. The Weisswange Black Tonic Water is a very dry, rather reserved tonic, which offers sweet and fruity gins (especially New Western Dry Gins) space to unfold. I was very satisfied adding two Dashes Orange Bitters. But if the gears of this tasteful composition don't suit your taste buds, you can adjust them with a wrench.
Buying sources: At specialized retailers or online, for example at Conalco.
*The bottle for this review was provided to me by the Conalco Spirituosen UG. The fact that this product has been sent to me free of charge for editorial purposes does not – in any way – imply any influence on the content of this article or my rating. On the contrary, it is always an indispensable condition for me to be able to review without any external influence.