Anyone who thinks of Norway or generally of Scandinavia does not necessarily think of beer or alcoholic beverages in this context. The reasons for this are probably quite simple: the country itself is of such enchanting beauty that fjords and fjells will likely come to the mind before anything else. And in terms of alcohol, a very restrictive policy contributes to a reputation that is regarded as what I would call an internationally not really leading one. But nevertheless, the descendants of the Vikings of course brew their own beer and for this special article I have visited parts of northern Norway to have a closer look on some of the beers made there. And by the way today is the International Beer Day.
Like other states (with the US as the most prominent example), a political climate of restricting the abuse of alcohol prevailed in the early part of the twentieth century in Norway, which had just become and independent country at that time. The arguments for the prohibition were mostly the same as in other countries. The result was the "Brennevinsforbudet" (Engl.: prohibition of brandy wine) in 1916. After some ups and downs, this prohibition was finally abolished in 1927, mainly for economic reasons. But even today, however, relatively harsh regulations are still active in the country, which can sometimes be a little bizarre to a visitor: wine and spirits are only available in so-called Vinmonopolets and the beer in the supermarket cannot be purchased at any time. If you take your beer from the racks to the checkstand before 8 o'clock am. or after 8 o'clock pm., the cashier will take it away from you, referring to the hour of the day. On weekends they will do so even after 6 pm. In addition to that, the maximum amount of alcohol permitted in drinks sold in the supermarket is 4.7% ABV. For a beer that is still quite acceptable (at least if it is compared to the maximum of 3.5% ABV in Sweden). So while in Sweden I would make a bow around beer from the supermarket at any time, the Norwegian supermarket beer can be a good one.
But there is also a lot of positive news about the beer in Norway. The Scandinavians have a rather progressive reputation and in terms of beer styles they live up to modern expectations. While the large industrial breweries in the "beer country" of Germany continue to struggle with the global craft beer movement, still arguing about the "Reinheitsgebot" and only tentatively introducing new styles of beer to their ranges, in the northern part of Norway multiple beer styles are offered by both the larger and smaller breweries: A colorful potpourri of internationally popular beer styles, which are capable of delighting the connoisseur.
But why do I write only about Northern Norway? Well, Norway is a relatively rugged country and traveling from north to south is less easy than in other states. The situation in Norway is somewhat more jagged due to geographical reasons, and the north and south are consequently more separated from one another than in other parts of the world.
Oh yes: Besides the Norwegian word for beer, "Øl", a lot of people will probably also have heard some stories about the prices in Norway. In fact, having a beer in the pub is not really cheap for foreigners, half a liter easily costs between 10 and 14 euros. Also the prices in the supermarkets are increased but not that drastically. Especially when it comes to ​​"craft" beers, the prices are quite similar in many other countries. Usually a bottle of 0.33 liters costs between 3.50 and 6 euros or more, depending on beer style and background. During my travels through parts of the Norwegian north, I often bought beers in supermarkets or on the spot at the brewery, so the following beers all meet the criteria for being sold also in Norwegian supermarkets.
I would like to start my reviews with some beers of the probably most famous and biggest brewery in the region: the Mack brewery, respectively Macks Ølbryggeri. Long known as the northernmost brewery in the world, the Mack brewery is rooted in the northern university city of Tromsø. There the brewery was founded in 1877 by the German Ludwig Markus Mack (who passed Tromsø during a hiking trip and quickly realized that the people there had no brewery and, in his opinion, drank too much liquor). Since 2012, however, the beer is not been brewed in Tromsø itself anymore but in Kjosbotn, about 55 kilometers away. In Tromsø, however, the old brewery building is still reminiscent of the brewery, as well as a microbrewery that was founded in the meantime. In addition, the Ølhallen is home to the world's northernmost beer cellar and also belongs to the Mack brewery. In contrast to the other breweries presented here, Mack also exports to other countries (though almost exclusively in Scandinavia).
Mack brews over 20 different beer varieties, but I could however not try them all. Therefore I would like to present only a few selected beers from that brewery below.
Mack Isbjørn Lys Pilsener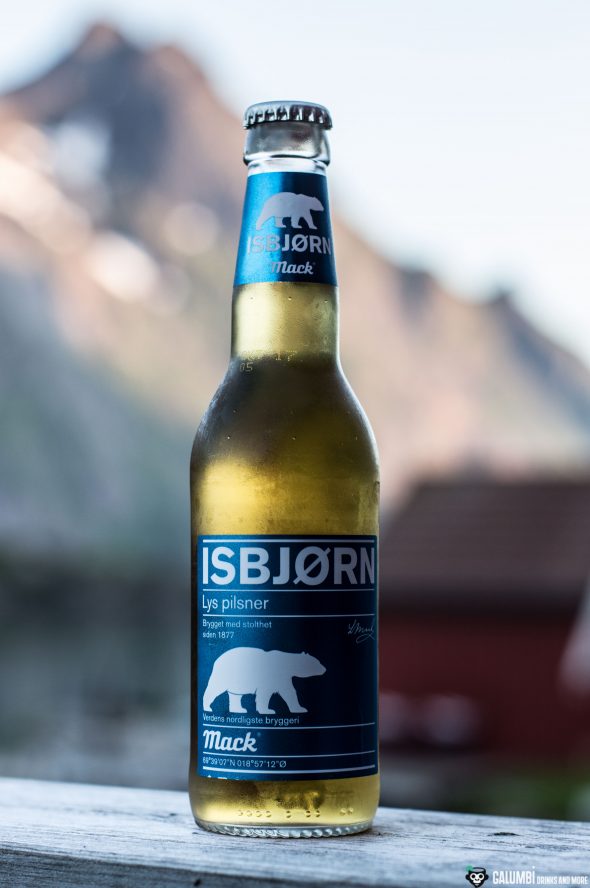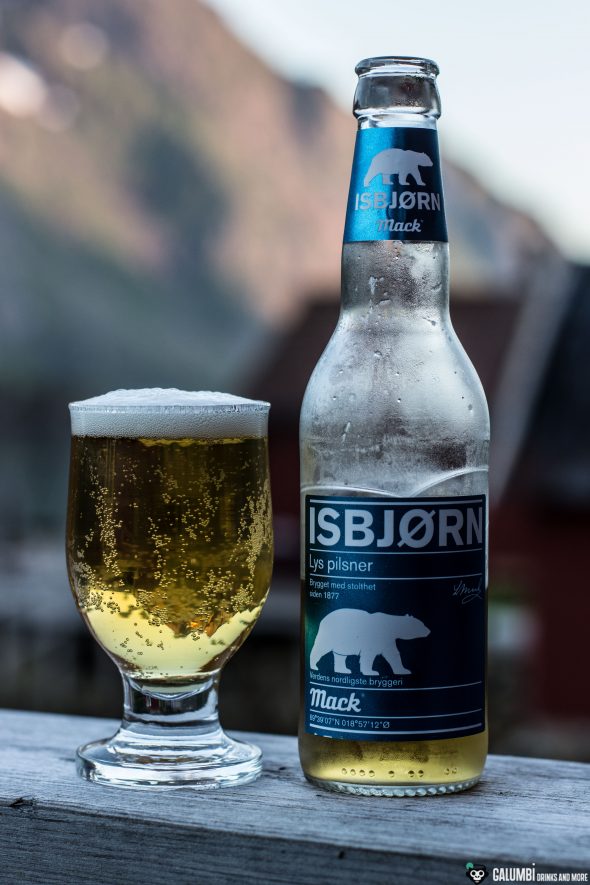 The light-colored Pilsener from the Mack brewery that was named after the polar bear has a rather poor average value at RateBeer.com. However, the Pilsener that was bottled at 4.5% ABV is not that bad in my opinion – if you're ready to arrange with it. It is a good refreshing beer! If you see it as an ice-chilled, fresh and floral Pilsener, it performs very well! On the nose there are subtle notes of citrus and some barley. In terms of taste it is tart, fresh, a little flowery with aromas of roasted corn and some malt. I could also find a subtle honey sweetness. As a refreshing beer I like it very much!
Mack Haakon Mørk Lager
A dark lager beer, which I also liked. It reminded me mainly of alcohol-free malt "beers" of my childhood. With some dark roasted aromas on the nose, malt and some cereals I was convinced right away. Also on the palate there were roasted aromas and a malty freshness with a tasty honey. This beer is also bottled at 4.5% ABV.
Mack Nordlys Mørk Pilsener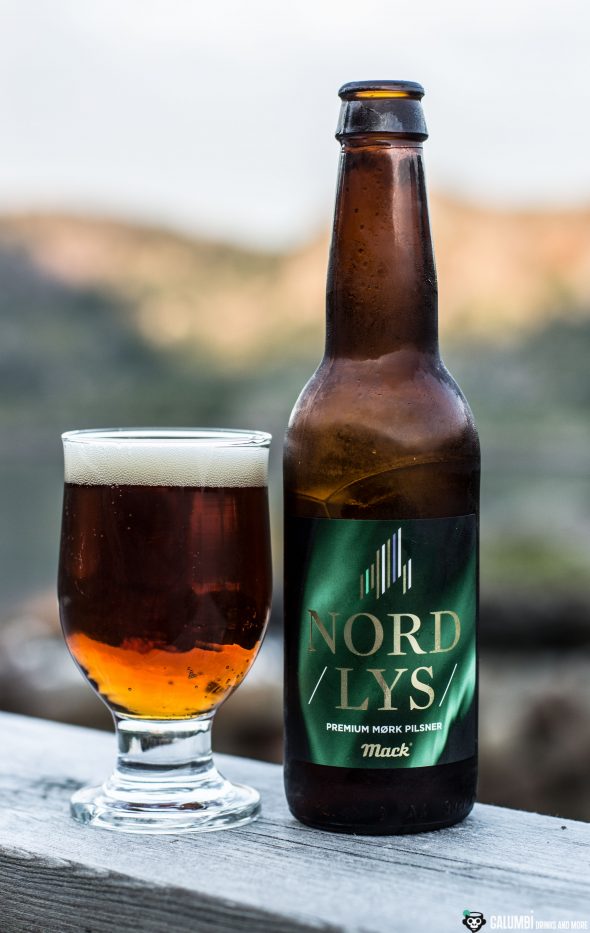 Well, I was not really sure what to expect from this beer. As a dark Pilsener it represents a very unusual style of Pilsener and I have to admit that I would have never expected this one to be a Pilsener during a blind tasting. With the almost Mack-obligatory 4.5% ABV, this beer shows notes of darker grain (although perhaps I wanted them to be there due to the color) on the nose. In addition, I could scent some forest honey. It tastes like a rather light, sweet Pilsener with a little bit more malt inside, an unfamiliar taste, which I would rather rate at a medium good quality level.
Mack Bayer
A beer brewed in the style of a Bavarian dark, which is perhaps not the best of its kind, but solid. Even here, my impression is not as bad as some ratings on various beer portals throughout the internet. It was quite "okay" and pleasant. On the nose there is a distinct malt note, again roasted cereals, dark grains, caro grain beverage and subtle chocolate. On the palate there is some roasted malt, dark bread (like a buttered pumpernickel) and some milk chocolate. This beer is bottled at 4.7% ABV.
Mack Pilsener
The classic Mack-Pilsener, on the other hand, was not able to convince me. Again we are dealing with  4.5% ABV in the glass. Unfortunately, on the nose it was the opposite of what I would call "full-bodied": very light and sparkling with only a very subtle smell. It is moderately bitter, rather light and fresh. Although sparkling and refreshing, but it definitely lacks the body I would expect from a good Pilsener. It reminded me more of the cliché of light American beers like for example Miller's. (I hope you guys at Miller's will excuse my comment.)
Mack Ginger Beer
The Mack Ginger Beer is available with 4.5% ABV, thus being a representative of alcoholic ginger beers. It contains fermented apple juice, natural ginger flavor, other natural aromas, as well as sugars and some more E-substances. The nose offers spicy ginger, lemon, apple, and a note reminiscent of a ginger ale. On the palate this ginger beer could not convince me at all: the ginger is much too weak with hardly any sharpness, plus a little grape juice, some yeast and too much sweetness. At the end, it was even slightly stale. Definitely not a good beer in my opinion.
In addition to the Mack brewery, I also visited the still very young Graff Brygghus in Tromsø. They started to brew beers in August 2015 and compete as a typical craft brewery with the old-established Macks Ølbryggeri. Under the leadership of Martin S. Amundsen, the brewery was built up in an old wooden house from the year of 1901, in which various craftsmen had already been lodged. They do mainly American and German inspired beer styles, (you can find a complete list of them on the brewery's website – unfortunately only available in Norwegian). Here, of course, I did not taste the whole range, but nevertheless a small selection of beers that were especially interesting to me.
Graff Portland Pale Ale
Bottled with 4.7% ABV, the Portland Pale Ale from the small Graff Brewery in Tromsø showed a rich and beautifully aromatic grapefruit on the nose alongside a fine honey sweetness which made me think a little bit of the warming smell of a hot lemonade. A little bit of yeast and some sweet orange is also there and turns into a potpourri of warm citrus fruits after some time. On the palate it offers a nice bitterness, the citrus tones are much more subtle here, but fine spice notes come through and actually some caramel. A great beer in the American Microbrewer style, which convinced me completely!
Graff Golden Hoppy Ale
Here too, 4.7% vol. are written on the label. The golden colored brew keeps what the name promises: on the nose you will find beautiful, fine-bitter notes of hops with some honey, thyme and very distant associations of rosemary. Together with some grain and fine roasted notes a truly appealing smell is created. In terms of taste it is rather fruity, tart with hints of fermented fruits, some honey candies and above all strong hops with a medium strong bitterness. Another point for the house of Graff!
Graff Dry Stout
Stouts and Porters are basically my favorite beer style. Accordingly, I have high expectations of a product from that category. Graff's Dry Stout is bottled with 4.7% ABV. On the nose, the typical roasted aromas are standing beside a rather fresh, mineral note. A little nut, a little chocolate, and dark bread. I like the smell, but it could have been a little bit more intense. The taste confirms the impression from the nose: a Stout with mineral-fresh impact: roasted aromas, nuts, dark bread, some subtle chocolate, but overall less sweet. I like it at the end of the day but you have to rate it against the background of only having 4.7% ABV. So you should not expect the impression of an Imperial Stout with about 10% ABV, of course.
The last brewery I'd like to introduce here is the Lofotpils brewery in Svolvær, the "capital" of the Lofoten Islands. In this secluded and beautiful natural region the people rely on German beer know-how and the beers are brewed under the leadership of a German brewer and a German brewer's assistant. The brewery was founded in autumn 2006 and is the world's first brewery to produce its beer with the crystal-clear mountain waters of the Lofoten Islands. It is also a small brewery with a correspondingly small output, which mainly supplies the proximity region with beer. The brewing kettles were produced by the German company Kaspar Schulz. Next to the brewery, which is based in the port of Svolvær, there is also an ice bar named "Magic Ice". (I hope you will understand that I did not visit that place.) Below you will find some selected beers of the Lofotpils brewery:
Lofotpils
Bottled with 4.7% ABV, Lofotpils forms the standard beer of the brewery and simply bears the brewery's name. On the nose there are bitter Pilsener-typical notes, a certain freshness with very fine and subtle citrus, barley and associations of oats. The taste is characterized by grain tones (here also with hints of oats) and a very fine honey sweetness. Quite a full-bodied Pilsener which I like.
Lofotpils Trollfjord
Here, too, we are dealing with a Pilsener that was named after the famous Trollfjord, a side arm of the Raftsund between the Lofoten and the Vesterålen islands. Also here we are dealing with 4.7% ABV. The nose shows a slightly more distant impression of roasted aromas. Roasted cereal, some sweet malt, popcorn, honey and subtle lemon peel. On the palate then again popcorn, cereals and corn on the cob. Overall fresh and tart.
Lofotpils Blonde Ale
The Lofotpils Blonde Ale is brewed in the eponymous style and bottled at 4.7% ABV. The first impression is its characteristic color of golden straw. The nose delivers citrus, some yeast, hops, white peach and very subtle honey. On the palate there is a little grapefruit, lime peel, a fresh bitter note, some wheat and a floral basic character. I like it very much!
Lofotpils Hvetebrygg
This beer, brewed in the style of a German Hefeweizen, differed to a certain degree from what I expected. But at the end of the day I like it. The 4.7% vol. transport roasted aromas, wheat, grilled banana and some nuts to the nose. On the palate then again there is wheat, sweetish-fresh notes of lemon, green banana and again some roast aromas in the finish.
Lofotpils APA
This beer, brewed in the style of an American Pale Ale, was a bit disappointing to me. Here too, 4.7% ABV mark the content of alcohol. The name of the beer triggers expectations of a hoppy beer which is unfortunately not true. Rather, it is more reminiscent of a lager beer. The nose shows some malt, a fine, lively freshness of citrus and a little hops. On the palate with much too little bitterness (already the nose was surprisingly mild in terms of hops), cereal notes with a small honey that definitely remind of a lager beer. I would have loved to try this beer directly against the normal Lofotpils, but unfortunately I did not have the opportunity. It is quite atypical for an American Pale Ale.
Buying sources: All in all, the availability of the beers presented here must be described as very limited outside of Norway or Scandinavia. But there is certainly the chance to talk to your local (craft) beer dealer about a possible way. The people behind the breweries would certainly be happy about any interest in their products. The easiest way is, of course, to visit the northern part of Norway. One thing I can guarantee is that next to the beers you will encounter nothing less than one of the most beautiful landscapes in the world with very friendly and kind people. The north of Norway is always worth a visit!