If someone asks me for a cocktail with blackberries, my first reflex is probably the same as the one of many others in that case: I usually tell something about the Bramble cocktail, about Dick Bradsell and basically just all the stuff I also wrote in my article about the Bramble. But, of course, there are numerous other variations on how to use blackberries in cocktails. And what better way to combine the full-bodied blackberry with a spicy and high-quality rye whiskey?
I guess Jessica Torres' from the One Martini blog thought something similar when she made her Black Briar cocktail. The fact that she named her drink a black Briar might indicate that she also thought of the Bramble beforehand. And even if the Black Briar is also a sour variant, it is not just a Bramble with Rye Whiskey but also adds the freshness of mint and a little more depth through the combination with Cassis. However, I've varied Jessica Torres' recipe a little bit: Creme de Cassis seemed a little bit too boring to me and so I decided to go for a Spiced Black Currant Shrub (what a Shrub is you can also read here – and you can find out more about this special Spiced Black Currant Shrub here) and I never regret that: it gives the drink an interesting dimension, does not make it too sweet and ensures that you will have a balanced taste experience which will really blow your mind. I opted for the Huddson Manhattan Rye, which resulted in a great, intensely and spicy taste experience. The fine notes of honey, liquorice and cloves but also the black cherries of the Manhattan Rye are just great in the Black Briar.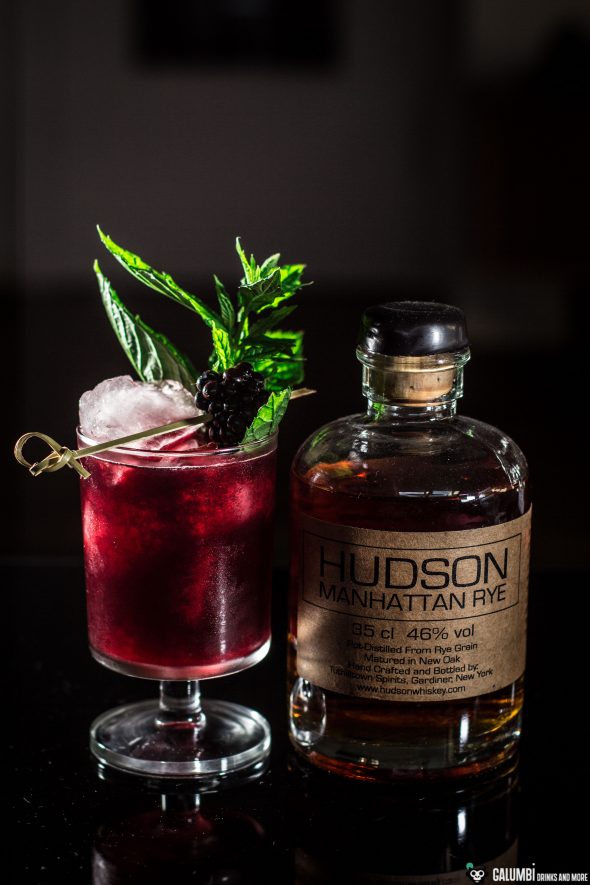 Recipe "Black Briar" (modified version with Spiced Black Currant Shrub):
6 cl Hudson Manhattan Rye
2.25 cl lemon juice
1.5 cl sugar syrup
0.75 cl Spiced Black Currant Shrub (see below)
5 blackberries
2 fresh twigs of mint
Spiced Black Currant Shrub: On one part of black currant juice (I like to make mine in the juicer, a good juicer does not care about a few stems with the fruits and they even add some bitter layer of flavor) add half a part of sugar. I have mixed 250 ml of juice with 125 g of sugar in a pan and added 4 cloves, a small cinnamon stick and two pieces of star anise. Heat and let simmer for about 8 minutes. Filter out the spices, then allow to cool and mix three parts of currant spice syrup with two parts of Brandy (I have used Cardenal Mendoza Brandy).
Preparation: Crush the blackberries with the muddler in the shaker, clap the mint between your palms and also add to the shaker together with the remaining ingredients. Shake vigorously on ice and double-strain into your glass filled with ice cubes.
Glass: Tumbler or SOF (the glass in the picture is somewhere between SOF, goblet and tumbler)
Garnish: twig of mint and a blackberry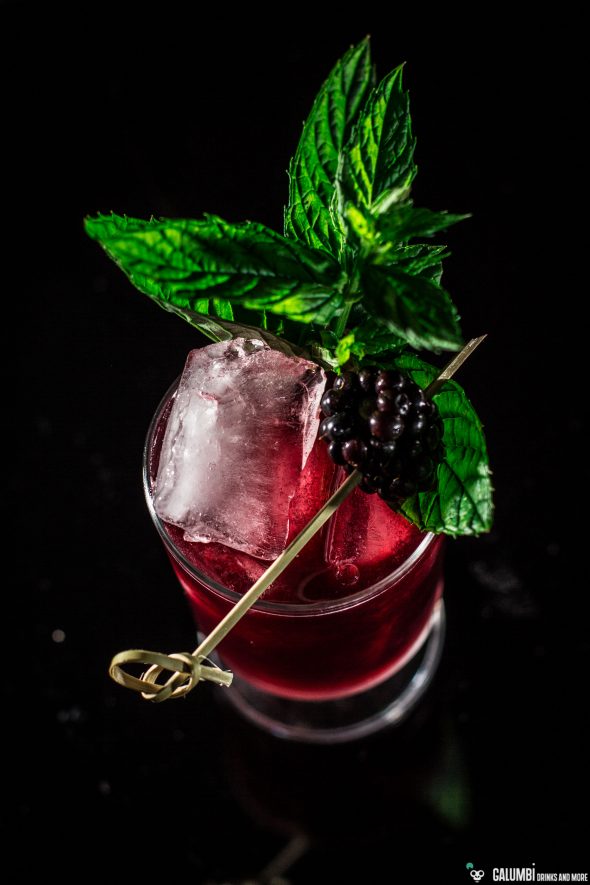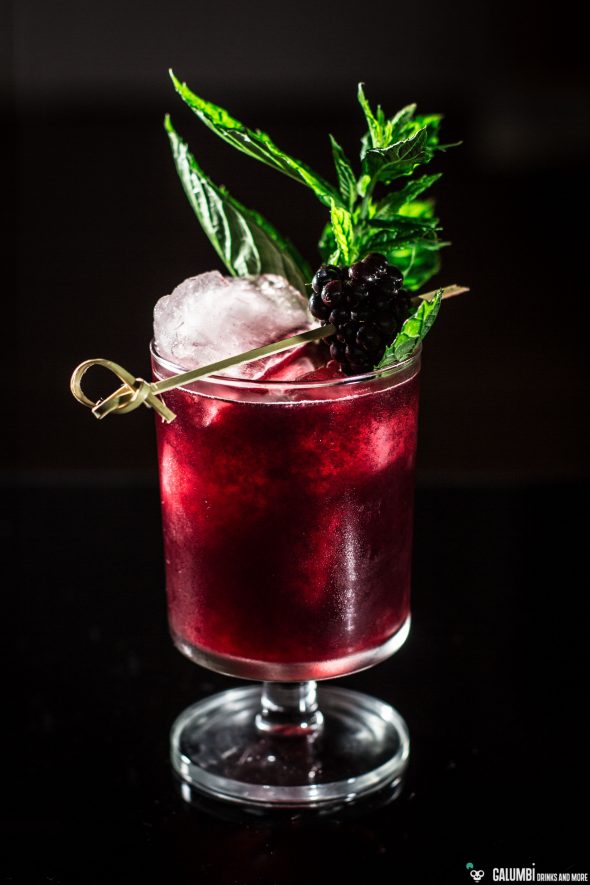 Buying sources: At specialized retailers or online. I like to buy my mint in Turkish grocery stores.