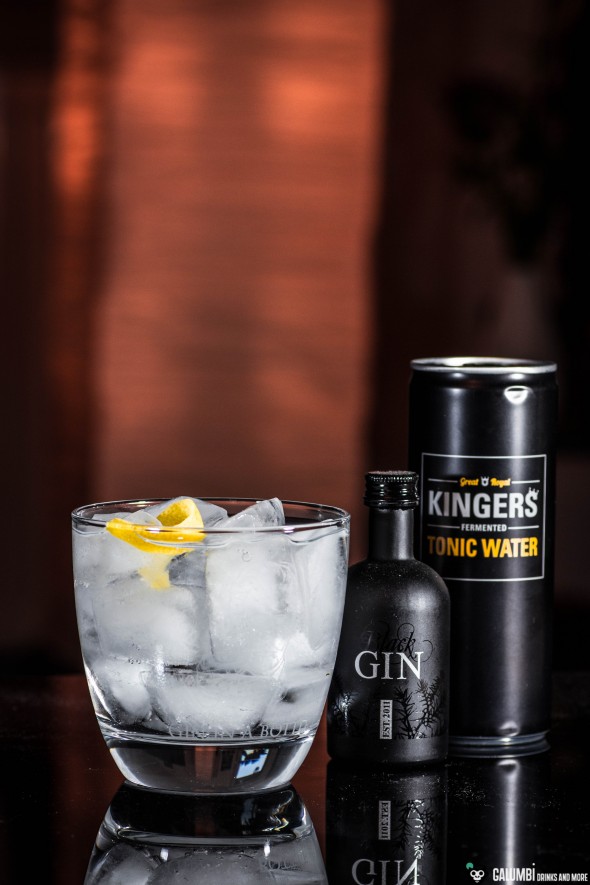 Today it's once again time for a classic Gin and Tonic. However, the components used in this G&T are a little extraordinary today.
As you surely know, tonic water gains its bitterness from the use of quinine which was also known as malaria prophylaxis in the Indian colonies of the United Kingdom. But in today's Gin and Tonic you'll look in vain for quinine. Why that? The tonic I have used is called Kingers Tonic Water from the Swabian Alb. The Kingers Tonic Water is produced by IQ4YOU which offer several fillers on the basis of mineral water from the region for use in different highballs and long drinks, including this special tonic water. The special feature is the absence of quinine, which is substituted by extracts of the Brazilian quassiatree and fermented juniper berries. The taste of Kingers Tonic Water offers an interesting, distinctive touch that does not make you miss any quinine at all.
In combination with Black Gin, the Kingers Tonic Water is really a very intriguing affair. Black Gin is also a regional product from the Swabian Alb, from Bad Ditzenbach to be exactly, where the Gansloser distillery is located. The distillery used to produce especially fruit brandies and liqueurs, but recently it has been discovered the gin segment, offering their very own style of gin. Black Gin is made from 74 ingredients of which only a few are officially named by the distillery, including classic juniper, ginger, laurel or coriander, as well as vanilla and cinnamon. Personally I'd locate the Black Gin more in the fresher side with various citrus notes, which are framed by a certain but gentle earthiness. A very nice gin, which harmonizes perfectly with the taste of Kingers Tonic Water. It is little surprise, as both manufacturers are closely linked and promotion of both products is very often combined.
Buying sources: Black Gin and Kingers Tree Tonic Water can be found in specialized stores or you simply go for a convenient online order (for example here).