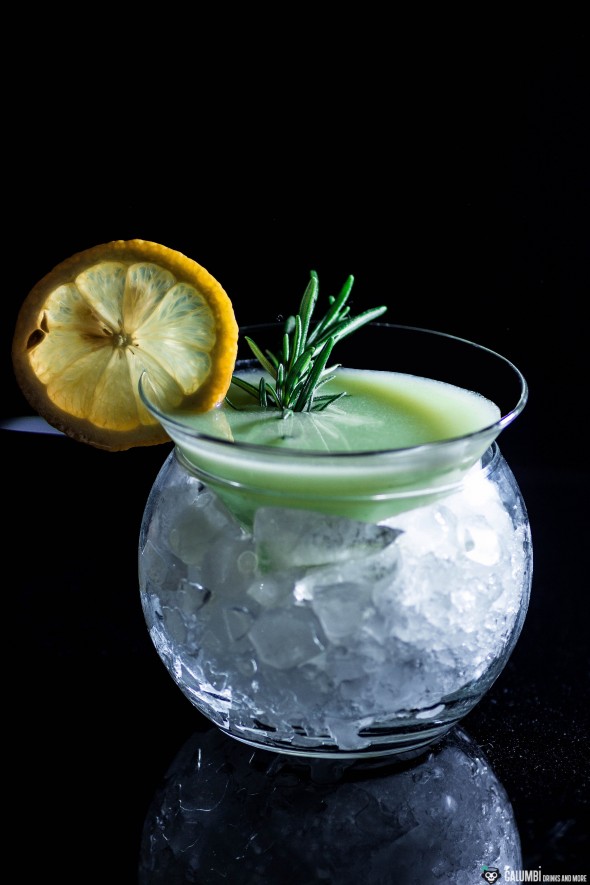 Lemon curd is a speciality that's not too well known outside of English-speaking countries, but does enjoy an increasing popularity in a globalized world even outside of the UK, Canada and the United States. It is essentially made of eggs, lemons and/or lime and sugar while it is eaten as a topping for bread. A very nice ingredient of lemon curd is the citrus zest with its spicy-tart flavor, thereby making lemon curd quite suitable as a cocktail ingredient as well.
The Rosemary Lemon Curd Martini is such a cocktail that relies on lemon curd. Actually it is a vodka-based drink, which I discovered by chance on the website foodpluswords.com, but I modified it a little bit. Since I usually find vodka cocktails relatively boring, I simply replaced the vodka by an intensely aromatic gin (I have hereunto used the absolutely recommendable Monkey 47 Gin). The herbal and floral notes of the gin go perfectly with the rosemary note and the tart aroma of lemon curd. The rosemary finds its way into the drink through homemade rosemary syrup, which really blends perfectly with the remaining ingredients.
The preparation is very simple and it does not necessarily require the production of your own lemon curd. Good quality from the grocery store is also sufficient. If you want to make Lemon Curd on your own you can, for example, use this recipe here.
Recipe:
6 cl Gin
1.5 cl rosemary syrup* (see below)
1 tablespoon lemon curd
1 cl lemon
1 cl lime juice
*Rosemary syrup: Bring 100 ml water 100 ml sugar with five sprigs of rosemary to the boil and let the sugar dissolve. Let the syrup cool down afterwards, leaving the rosemary sprigs inside for at least one or two hours.
Preparation: Mix all ingredients and shake vigorously on ice for about 30 seconds. Then double strain into your chilled glass.
Glass: Martini
Garnish: lemon wheel and a sprig of rosemary
Buying sources: All ingredients should be found in well-stocked supermarkets. If you can't find lemon curd you can produce it yourself (recipe above).