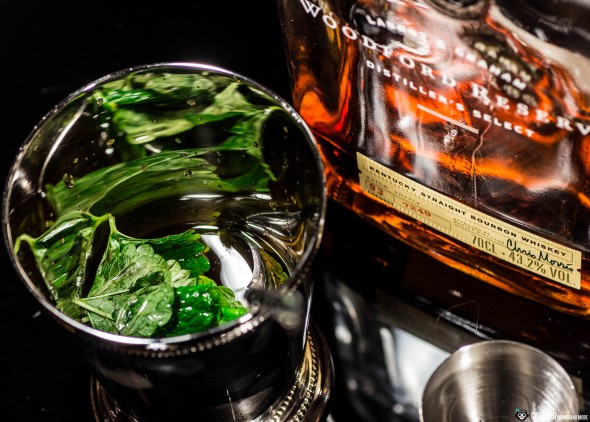 The Lemonbalm Julep is yet another drink I have taken from the book "Cocktailian – Das Handbuch der Bar". It is a creation of the authors Bastian Heuser, Helmut Adam and Jens Hasenbein. As far as I know this one was invented by Bastian Heuser. The drink is a special variant of the classic Whiskey Julep but with lemonbalm instead of mint. A combination which turns out to work very well. Some additional dashes of Lemon Bitters add a nice complexity to the mixture and give an extra depth of taste.
To mix the drink you'll need only a few ingredients and should always keep in mind that a cocktail is always as good as its worse ingredient. So choose a quality Bourbon (according to Mr. Heuser it should also work very good with quality gin) and of course fresh herbs. I have chosen a Woodford Reserve Whiskey, which is actually one of my favorite "standard bourbons". I like its strong vanilla tones and that slight hint of apricot. Especially the latter is great in this Julep.
Recipe:
6 cl Bourbon Whiskey
1 bar spoon simple syrup
15 leaves of lemonbalm
3 Dashes Lemon Bitters
Preparation:
First clap the lemonbalm between your hands (which sets the fragrant oils of the leaves free) and give them into a chilled glass or a silver cup alongside with the remaining ingredients. Stir occasionally and allow it to infuse for 5 minutes. To intensify the herbal flavors I recommend you to press the leaves against the walls of the glass or cup with your bar spoon once in a while. According to the original recipe the lemonbalm should be removed now (Personally I always leave my herbs inside when preparing a Julep, so feel free to do as you please)
Fill the glass or the silver cup with crushed ice and stir again. When the glass or cup becomes cloudy on the outside from the cold, the drink is almost finished. Put some crushed ice on top and  garnish it with additional lemonbalm.
Glass: Silver cup or Highball
Garnish: lemonbalm