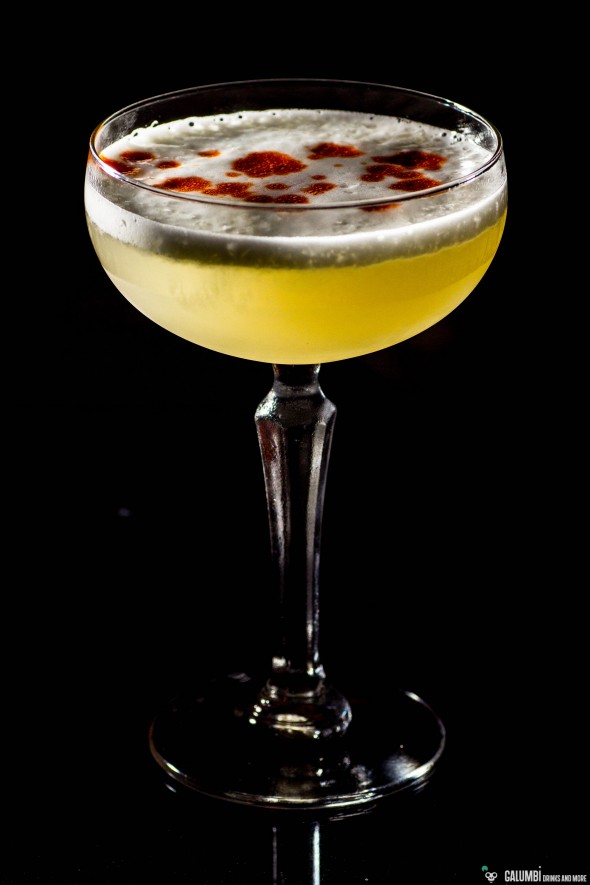 There are numerous legends concerning  the origin of this Sour Cocktail and there is also a real culture of debate between the countries of Peru and Chile, about  being  the original home of the Pisco Sour. In both countries it is even served at official  state receptions and maybe you can say, in these countries  it is basically what the Martini has been for to the political class in the first half of the 20th century. I won´t interfere in who is right or wrong and therefore limit myself to a few general comments on this excellent drink:
Pisco is a distillate of grape must. Both Peru and Chile proclaim the Pisco as their national drink. So – as you can see –  the whole controversy already begins at the base spirit of this cocktail. Pisco has notes of sour grapes and you can find raisins, too, I think. Sometimes it reminds me of grappa, but in fact both spirits are clearly distinguished  in direct comparison. Therefor there is no 100% fitting substitute  for Pisco. You can buy it in well-stocked liquor stores or numerous sources on the internet.
The Pisco Sour is a classic "Sour", which mixes  sweet and sour, sugar and citrus notes to the flavors of Pisco and gains enormous depth through the Angostura Bitters. The use of eggwhite results in  a silky- voluminous consistency, which  is also required for the optical presentation: you can put drops of the bitters on the egg-foam-topping of the drink. Again, you should always use fresh (organic) eggs to be on the safe side.
Recipe:
6 cl Pisco
3 cl lime juice
2 cl sugar syrup
half of an egg white
a few drops of Angostura Bitters
Preparations:
Put all the ingredients except the bitters in a cocktail shaker with ice and shake vigorously for half a minute. Put the drink in the precooled glass and finally add a few drops of Angostura Bitters on the foam topping of the drink.
Glass: old fashioned glass or Coupette
Garnish: none