For those who are a little more familiar with Scotch whisky, the name Mark Reynier will certainly mean something. The former CEO of the Scottish Bruichladdich distillery has not only made a name for himself by rescuing the aforementioned distillery, but has also proven himself to be a successful innovator with the programmatic reorientation of Bruichladdich. In this respect, it is of course worth taking a closer look at what else Mark Reynier is doing at the moment. (provided test product)*
He is now the head of the Waterford Distillery in Ireland, which he founded in 2014. Yes, that's right, in Ireland – so Mr. Reynier is obviously not one of the dogmatic tradition advocates in the polarizing Ireland-Scotland dispute about the water of life (even if the Irish single malt whisky from the Waterford Distillery is deliberately spelled with a y and not with an ey). However, he remains true to one "tradition": the trust in the quality and importance of the whisky's raw material: the barley or barley malt. So, similar to many well-known Bruichladdich bottlings, they rely on the importance of terroir and consistently provide all sorts of details about the barley used.
So, with today's Waterford Single Farm Origin Broomlands Edition 1.2 Irish Single Malt Whisky (yes, that's its full name), we learn that the barley comes from Brown's Broomlands Farm, located just northeast of the Waterford Distillery near the village of Enniscorthy.
The Waterford Single Farm Origin Broomlands Edition 1.2 has an age of three years, eight months and ten days – and is thus unquestionably a very young whisky (with an also still very young distillery, however, little surprising). The casks in which the Waterford Single Farm Origin Broomlands Edition 1.2 matured consist of 28% French oak, 20% Vin Doux Naturel casks that previously contained Madeira and Sauternes, as well as 18% new American oak and 34% First Fill American oak casks. Now that's what I call a precise indication of cask aging! The whisky was not colored and chill-filtered. In terms of product transparency, this is definitely an exclamation mark and very welcome.
By the way, the Waterford Single Farm Origin Broomlands Edition 1.2 is bottled at an interesting abv of 50%, which I also like very much.
So how does this Irish single malt whisky taste?
Tasting Notes:
Aroma: First, I notice a nice dual tone of spice and fruit. Green apples or freshly cut apple wood, maybe some quince and apricot, then vanilla and caramel tones. The first impression is quite round and does not impress with one-dimensional flatness – in a blind tasting I would have definitely considered this whisky older. Some people spoke about a certain "barn or stable note", which is an association that would not have come to me myself, but which I can certainly accommodate somewhere between leathery and chocolatey tones.
Taste: The palate is definitely dominated more by the fresh and fruity notes of the whisky. Here, again, I find bright fruits: quince, lemons, also some apple, a touch of anise and diffuse spice tones from the casks, but these are still somewhat within the limits due to its age. It cannot quite hide his youth on the palate, but it sets quite interesting accents.
Finish: spice tones and a slight woodiness, medium-long.
The whisky is certainly well suited for use behind the bar. I wouldn't fear a big debate about using it as a cocktail ingredient here, as the inclined purist might surely have rather older drops in mind, which he might defend against the supposed bad habit of mixing. However, he would not be able to stop me even with such whiskies.
My first idea immediately went in the direction of a Manhattan variant, of which there are of course countless. Basically, my cocktail today is a slight variation of the Affinity Cocktail, which was first described in 1907 in the New York Sun. However, I have changed the classic equal parts drink a little, split some ingredients and increased the whisky content and stirred, so to speak, an "Irish variant".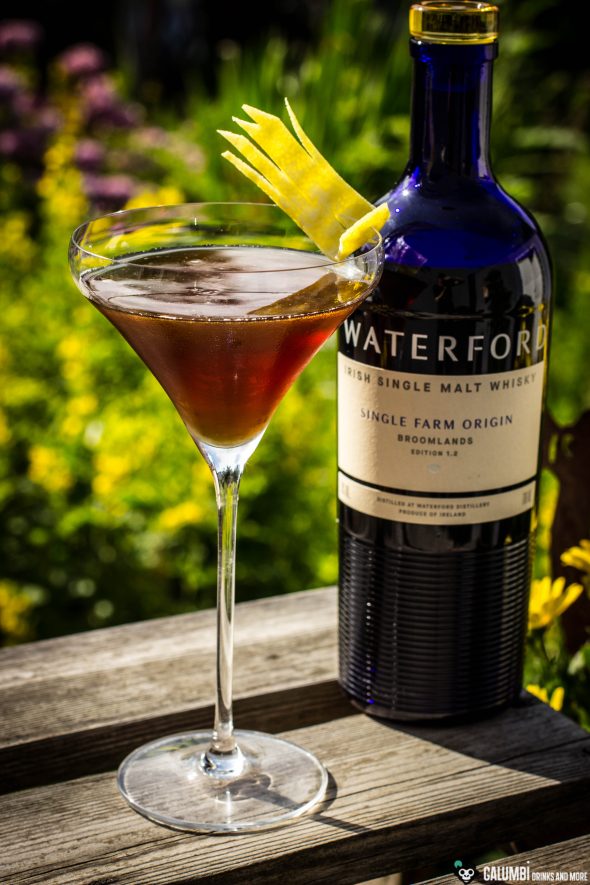 Recipe "Irish Affinity":
4.5 cl Waterford Single Farm Origin Broomlands Edition 1.2 Irish Single Malt Whisky
2 cl Punt e Mes
1 cl Amaro Montenegro
3 cl dry white vermouth
1 Dash Aromatic Bitters
Preparation: Stir all ingredients in a mixing glass on ice until cold and strain into a pre-chilled glass. Then spray with the oil of a lemon zest.
Glass: Martini / Manhattan
Garnish: Lemon zest
Buying sources: At specialized retailers or online
*The fact that this product has been sent to me free of charge for editorial purposes does not – in any way – imply any influence on the content of this article or my rating. On the contrary, it is always an indispensable condition for me to be able to review without any external influence.