I remember well the time when I took my first steps into the world of cocktails, gradually acquired a collection of spirits and repeatedly leafed through the few bar books I owned back then. At that time there was one or the other ingredient, which I came across from time to time, but which didn't mean anything to me and which I then gave a wide berth to for quite a long time. One of them was elderflower liqueur. (provided test product)*
In many cases one found (and finds) in bar books no brand-neutral designation, but reads simply the name "St. Germain", which surely became the standard elderflower liqueur in most bars of the present.
But of course, we are all always happy about variety and innovative alternatives, because they simply expand the spectrum of what is possible – and especially in culinary spheres, that is of course the proverbial salt in the soup. This also applies accordingly to elderflower liqueur. And that brings me to the subject of my article: Ellenor Elderflower.
This elderflower liqueur is competing to offer just such an innovative alternative in its segment, one that is recognizably different and yet picks up on the genre theme. The liqueur was created as part of a collaboration between Anders Skötlander (who founded the Great Dane Rum brand in 2013) and Hasse Johansen (bartender at St. Pauls Apothek cocktail bar in Aarhus, Denmark).
The Ellenor is based on a very simple composition of ingredients: hand-picked elderflowers are blended with lemon juice, cane sugar and alcohol to create the final product. Only organic quality ingredients are used. Finally, the liqueur is bottled at 18% vol.
Tasting Notes:
Aroma: Intense elderberry notes, lemon, a heavy sweetness rises from the glass – in general: if you compare the Ellenor with a St. Germain, you have to state: here is a much more intense and expressive aroma in the glass – and also an unmistakably self-confident elderflower program. Those who know elderflower and perhaps have made elderflower syrup themselves once or twice will in any case immediately notice the authentic character of this liqueur. Associations of chamomile, curd and forest honey I find (very subtle) after a while.
Taste: also on the palate, the Ellenor confirms the impression from the nose. Yes, it is a liqueur and yes, it is sweet, but the sweetness is very successfully balanced with the freshness of the lemon, which makes the liqueur almost a little sour cocktail in itself. Alright, that may be a bit of an overhyped statement, but the flavor picture makes me think in that direction more than once. Associations of forest honey flank the impression, but it is also primarily characterized by exceedingly rich elderflower. A St. Germain remains much more subtle and delicate here. For this reason, I wouldn't want to simply equate them: both can certainly each better emphasize their strengths in different contexts.
Finish: sweet with cane sugar notes and lemon.
There are countless recipes that rely on elderflower liqueur (often the ingredient is also listed in German-language cocktail literature in the English spelling "Elderflower liqueur" or "Elderflower-Likör"). In many of them the liqueur plays only a small supporting role or sets nuances. Today, however, I have chosen a drink in which the liqueur does not play the main role, but is used in considerable proportion. In Simon Difford's really great Pyramid Punch (a variation of the classic Pisco Punch), Peruvian Pisco forms the basis, which is flanked by elderflower liqueur and pineapple juice. Grapefruit juice and pimento dram form the aromatic background noise. A nice drink where the Ellenor can show what it's made of.
Pyramid Punch recipe (adapted from Simon Difford):
6 cl Peruvian Pisco
3 cl Ellenor Elderflower Liqueur
6 cl pineapple juice
1.5 cl grapefruit juice
½ bar spoon (0.125 cl) The Bitter Truth Pimento Dram
Preparation: Shake all ingredients over ice and strain into glass filled with fresh ice.
Glass: Pilsner or Hurricane
Garnish: the original recipe calls for a pineapple wedge. However, I had fresh mint in the house and especially these beautiful new cocktail skewers from The Dizzy Diva, so I opted for a combination of mint and Griottines cherries.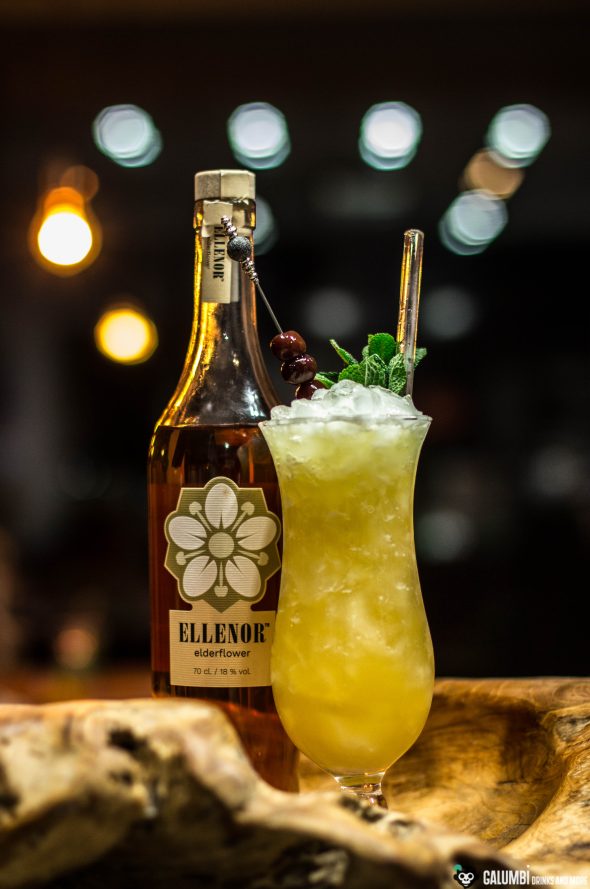 Buying sources: At specialized retailers or online
*The fact that this product has been sent to me free of charge for editorial purposes does not – in any way – imply any influence on the content of this article or my rating. On the contrary, it is always an indispensable condition for me to be able to review without any external influence.